Char's Spring 2023 Puppies
CHAR WHELPED OUT 6 BEAUTIFUL BLACK PUPPIES

ON WEDNESDAY
, JUNE 7TH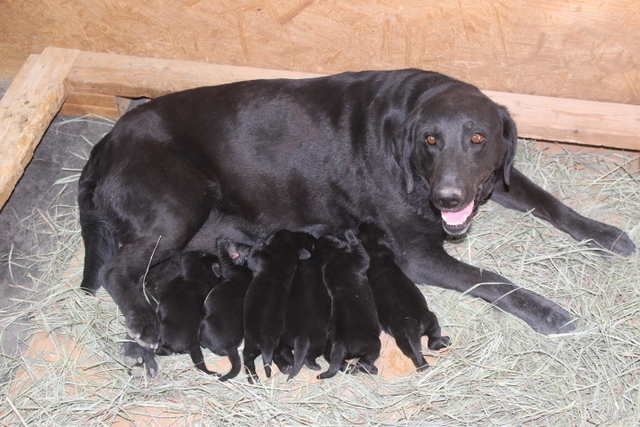 4 MALES & 2 FEMALES

6 Beautiful, Black, Healthy Puppies!
Char's pups will be ready to go home
the weekend of July 22nd
Sire: Diamond D's Rugged Ruger


New puppy pictures will be posted each week
See them below

Char's's Spring 2023 Puppies were born on Wednesday, June 7th, 2023. They will be weaned, totally socialized, and ready to go home the weekend of July 22nd (~ 7 Weeks Old). Each pup will have had their dewclaws removed, several thorough health check ups, their 1st puppy shot, and at least two dewormings, as well as a nail trim and a bath by the time they are ready to go.
Also, all pups come with our
Incredible One & Three Year Health Guarantee
and
Free Puppy Starter Kit
RESERVE YOUR 2023 LABRADOR PUPPY TODAY!
Spring/Summer
2023 Pricing
Description

# Available

# Sold

Price

Black Males

0

4

$1200

Black Females

0

2

$1200

Yellow Males

0

0

$1200

Yellow Females

0

0

$1200

Air Shipping
(*Hand-delivered)

---

---

*$750-1500

Local Delivery
(within 250 mi)

---

---

$2.00/mi
(One Way)
*Note: All of our air-shipped dogs are hand-delivered by our Pet Nanny!
Delivery prices vary depending on where the puppy is to be shipped to.
RESERVE YOUR 2023 LABRADOR PUPPY TODAY!

Contact Us To Reserve Your Pup Today!
and/or
Call for an appointment and directions to come out and see our dogs!

ALL OF OUR PUPS COME WITH THE FOLLOWING:

Official AKC®-Certified Pedigrees


of both the sire and dam (three generations)

AKC® Dog Registration Applications
ready to register the new name you pick out for your pup

Certificate of Health and Limited Health Guarantee
certifying health check-ups, first puppy shot (i.e. DA2P-Parvo) and dewormings
(i.e. pyrantel pamoate), as well as, guarantee against congenital/hereditary defects
and puppy care instructions

Click here for Diamond D Kennel's:


Incredible One & Three Year Health Guarantee

and

including a collar & a leash, a 7-10 day supply of Black Gold Explorer Original Performance 26/18 Dry Dog Food, healthy Wholesomes Puppy Golden Biscuit Dog Treats, a Multipet Loofa Squeaky Squeeze Toy, and a Bow Wow Pal Tennis Ball, as well as the

Diamond D's Puppy Information Folder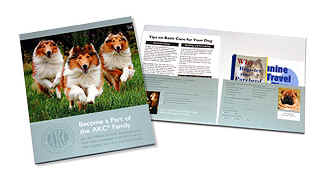 This New Puppy Folder contains essential information for puppy buyers. The left folder pocket provides a great space for important documents for your puppy, including the sales receipt, registration application, immunization and health record, sire and dam pedigrees, etc. The right pocket is filled with a variety of AKC and other educational materials, all a great resource for teaching you the importance of responsible dog ownership, as well as Diamond D's Certificate of Health and Limited Health Guarantee, a Black Gold Premium Dog Food brochure, etc.
In each folder, you'll find the following AKC materials:
| | |
| --- | --- |
| | Why Register |
| | Should I Breed My Dog |
| | Keeping Your Dog Fit & Trim |
| | Canine Travel Tips |
| | List of Dangerous Food/Household Products |
| | Tips on Basic Care for Your Dog |
| | Puppy Owner Checklist |
This folder contains the tools you'll need to begin a long-lasting and rewarding relationship with your new canine companion.
RESERVE YOUR 2023 LABRADOR PUPPY TODAY!
-- A $200 DOWN-PAYMENT MAY BE MADE TO HOLD A PUP --
The order in which down payments are received determines the pick position for your male or female pup.
(Note: Down payments are NONREFUNDABLE once you have been placed in your pick position for a puppy that has been born from a particular litter.)
Contact Us To Reserve Your Pup Today!
or
Call for an appointment and directions to come out and see our dogs!
We have the secure-site PayPal® E-mail Invoicing payment option available for those who want to put a deposit down to hold a puppy, or are having their new pup shipped by air freight or are picking up a puppy and want to pay the balance on the pup. That is, upon request, Diamond D Kennels will bill you by PayPal® e-mail invoice, and you may then pay this invoice directly online to PayPal® using your credit or debit card, bank or PayPal® account, whichever you prefer. We also now have Venmo.

If you are interested in a puppy -- please indicate which puppy by
Dam's Name, Puppy's Color, Sex, and Litter Number
e.g. Char's Black Female Pup #2
THEN JUST
E-mail us at: labradorswest.hotmail.com
or
Call us at: 406-965-0022

New puppy pictures will be posted each week
-- If you are interested in a particular puppy & want more pictures please just e-mail us --

5 WEEK OLD PUPS
Gettin' feather crazy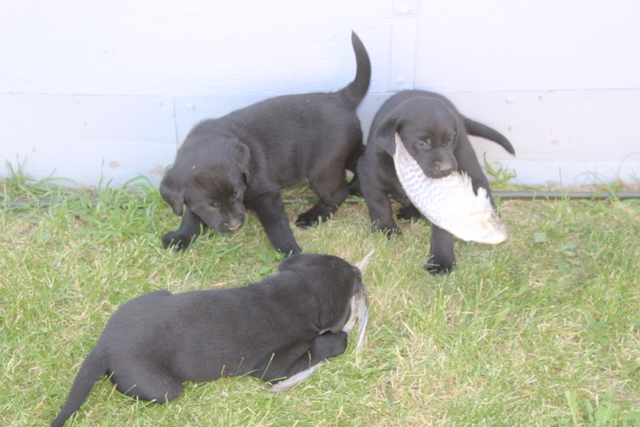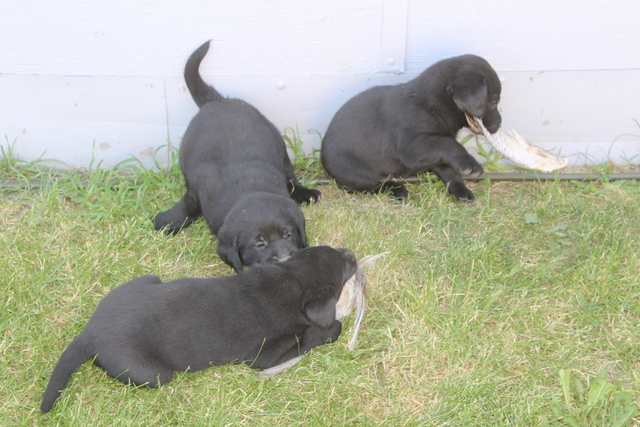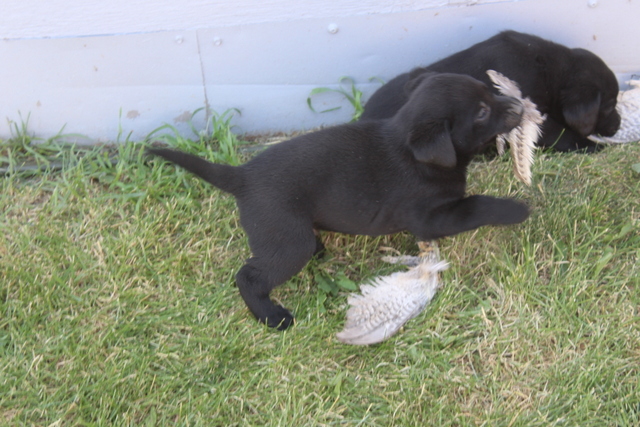 All our pups are introduced to cats


Sooty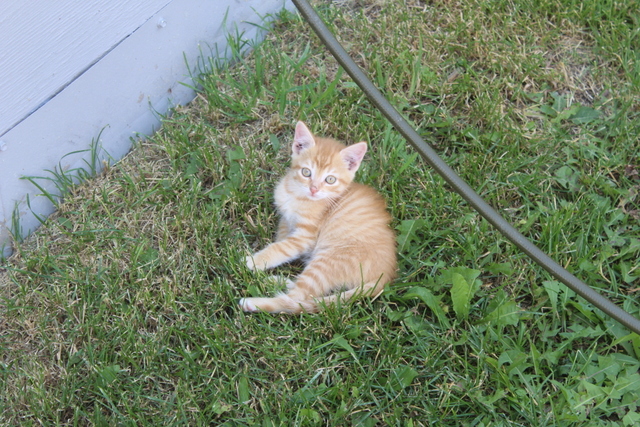 Simba
Playin' with Sooty the Cat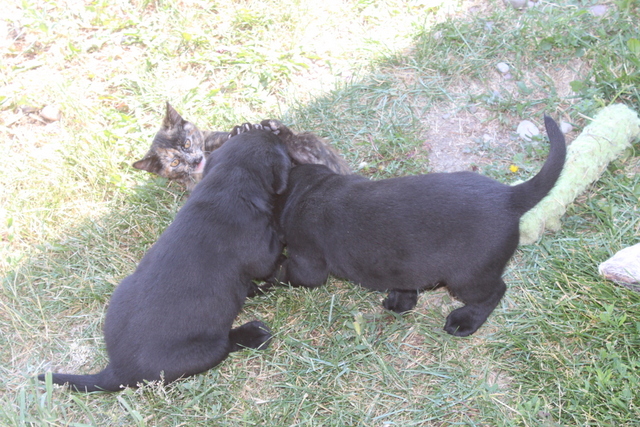 Playin' with the Loofa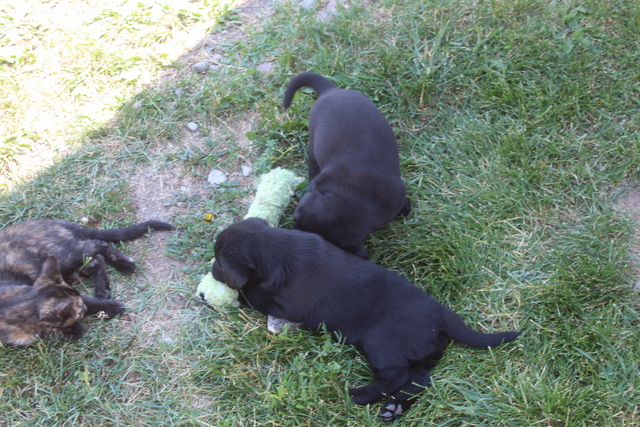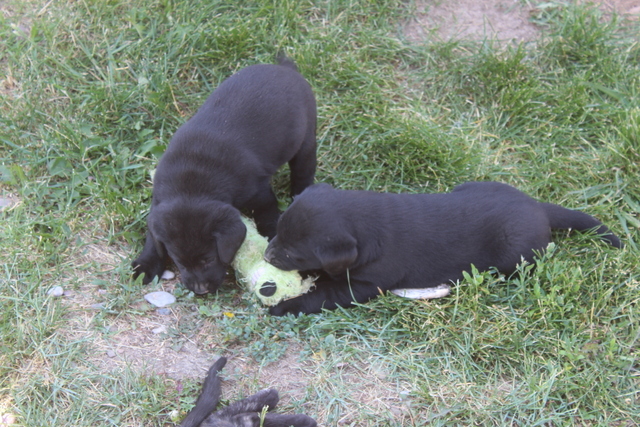 Skip the cat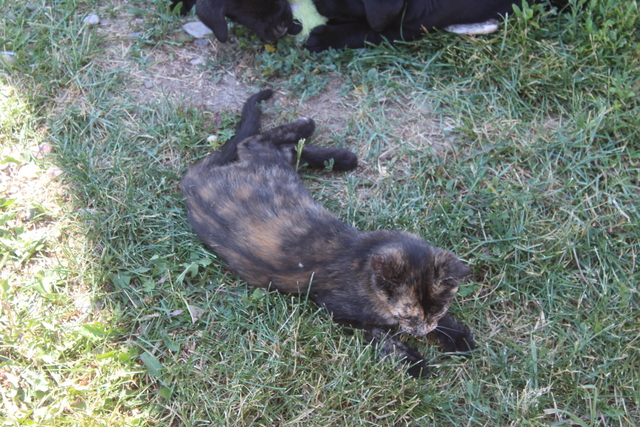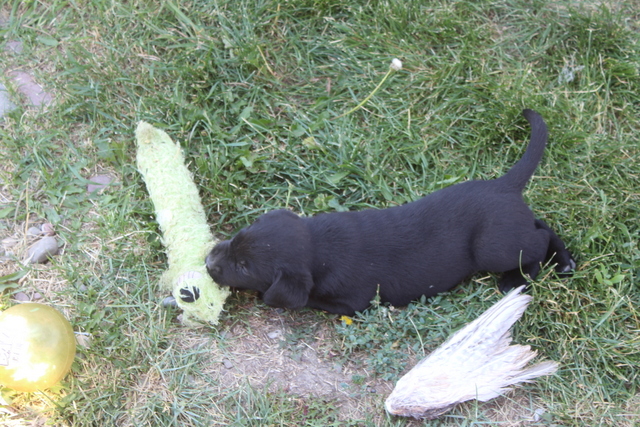 More feather play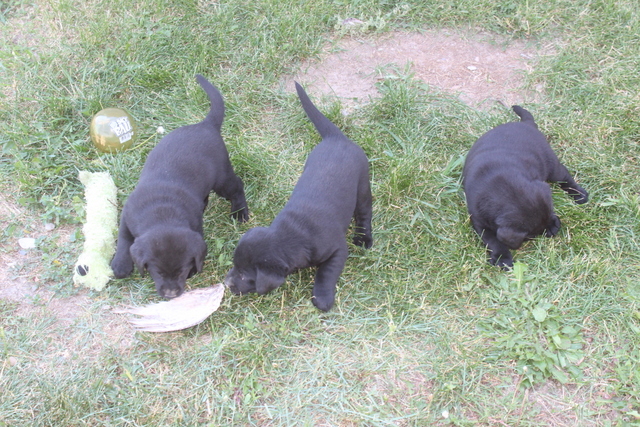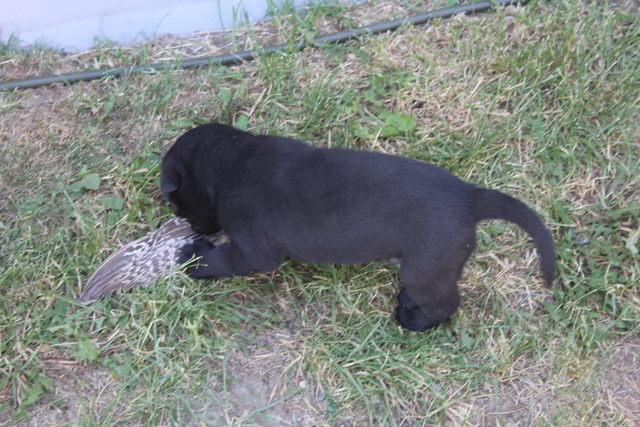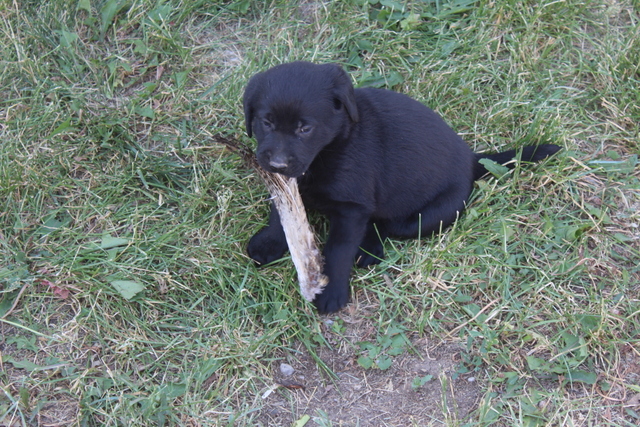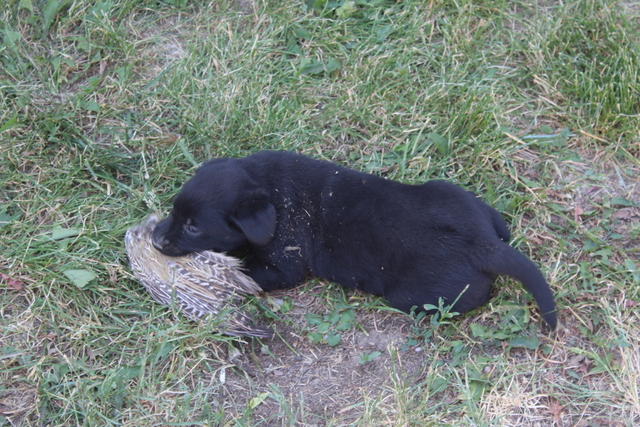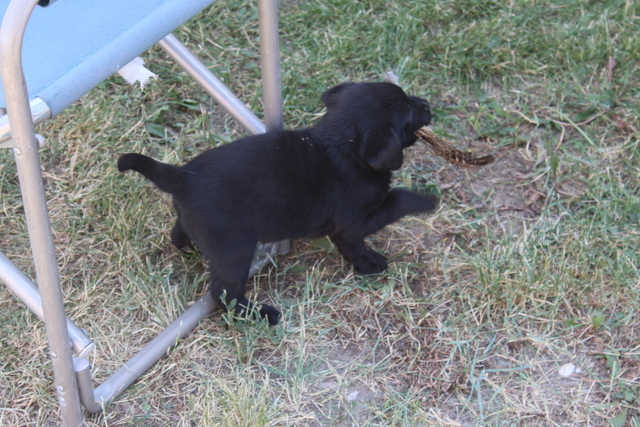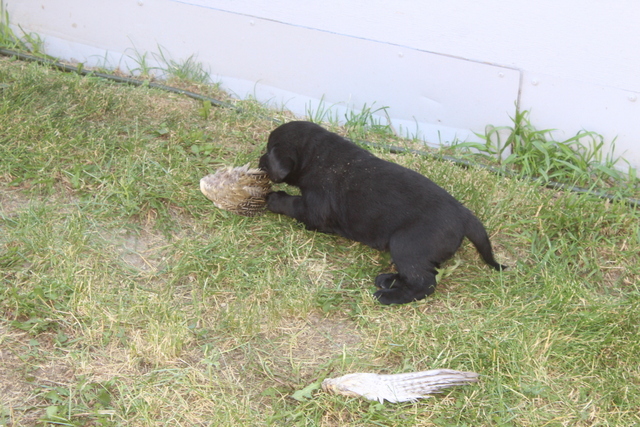 Oh, good puppy, fetchin' it up.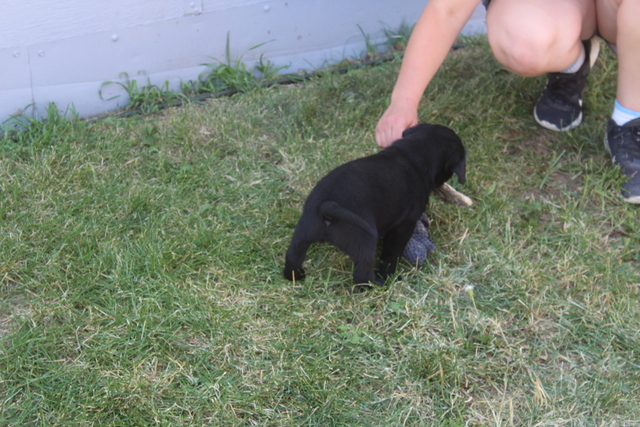 Cool grass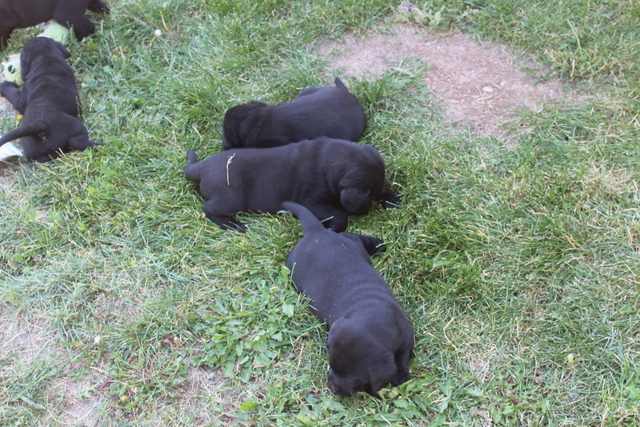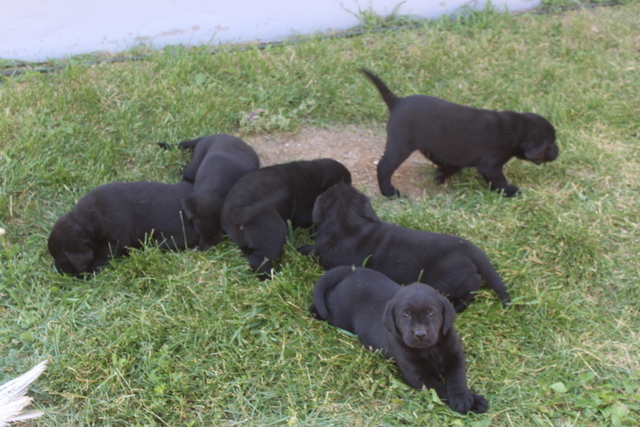 Loofa and feathers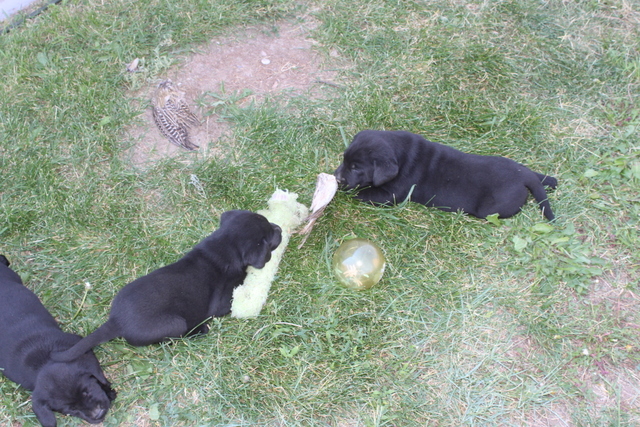 Coolin' off in the water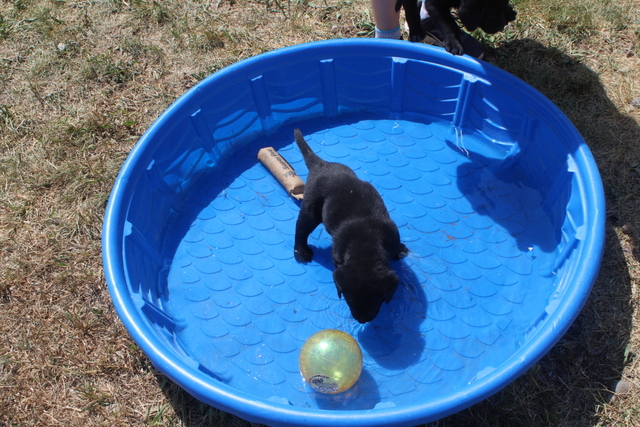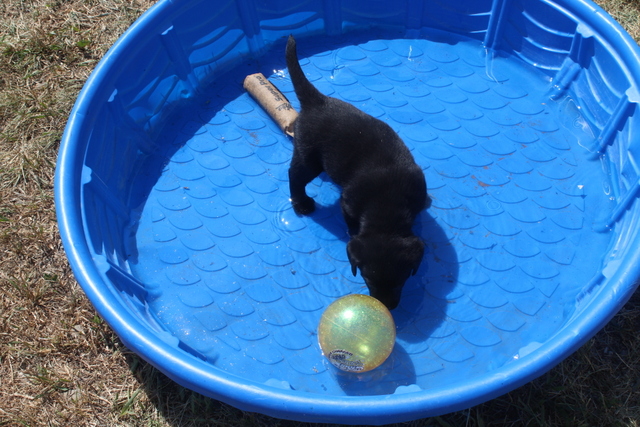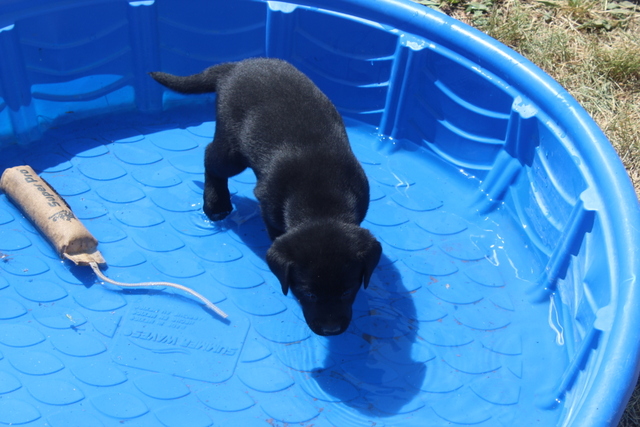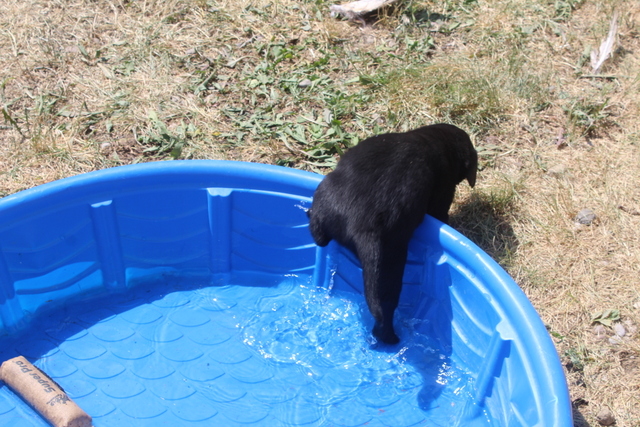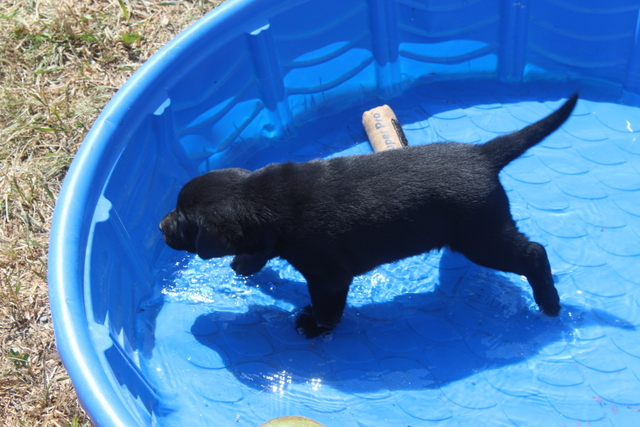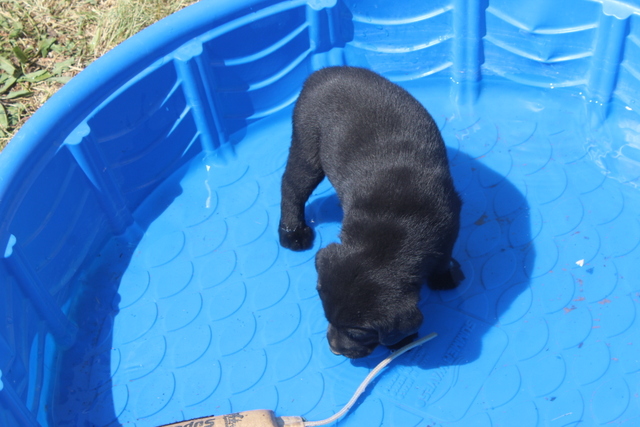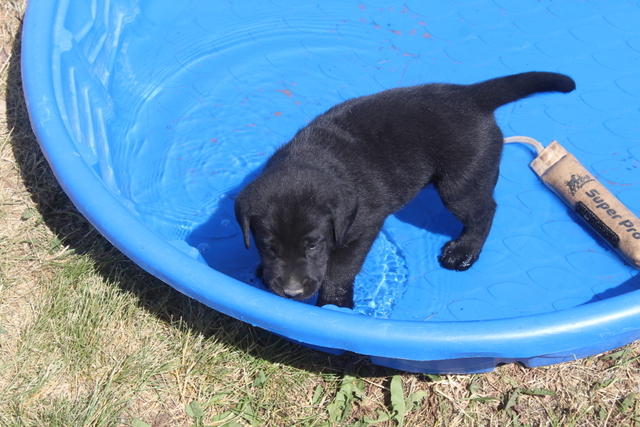 More loungin' and playin' in the cool grass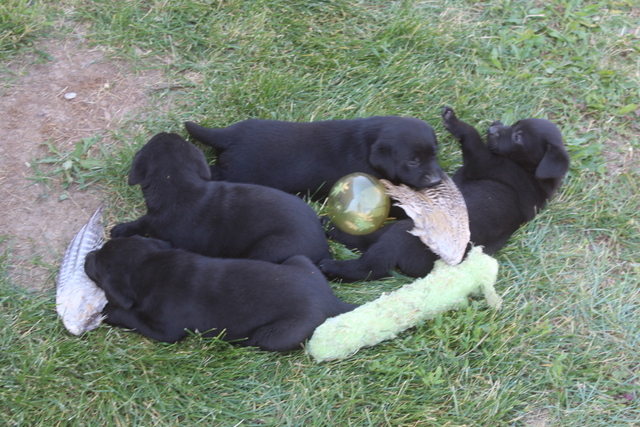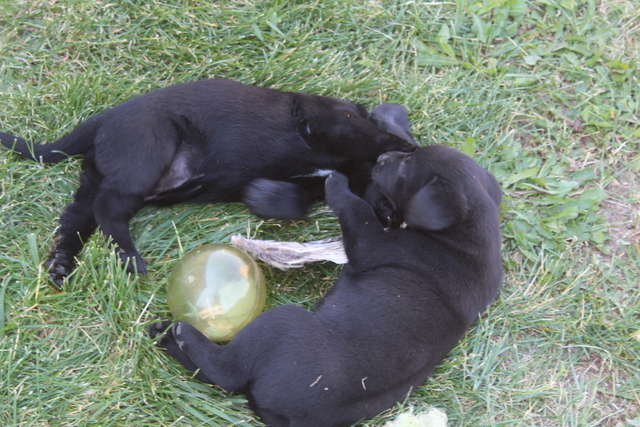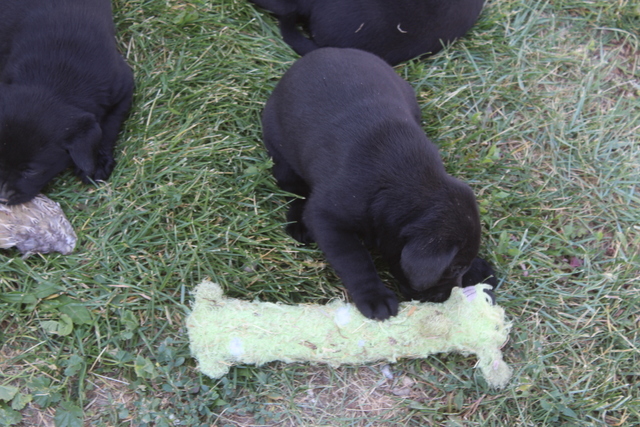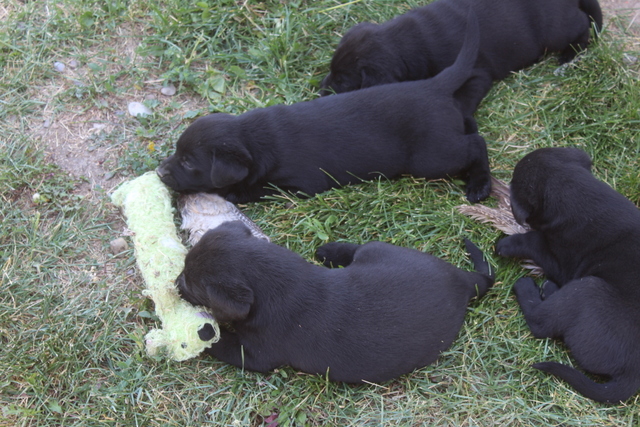 Our new Kennel Tech Kimber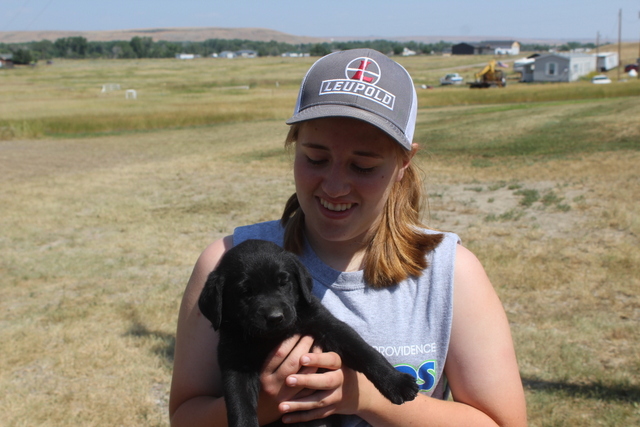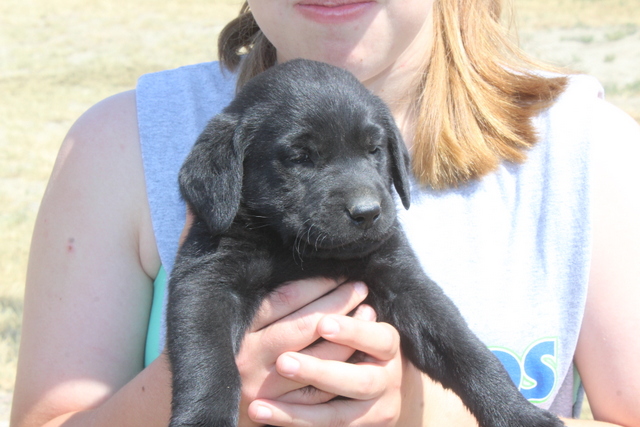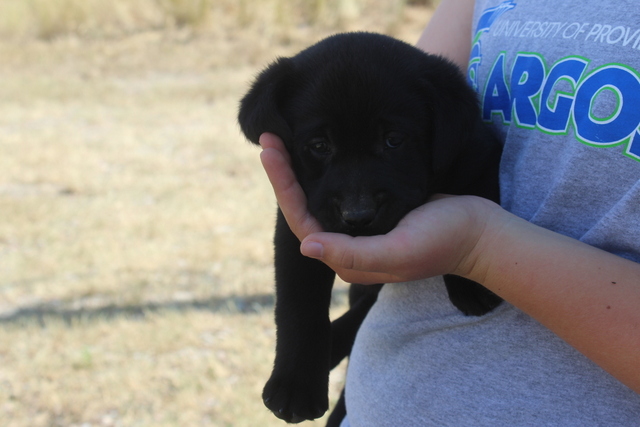 Such beautiful puppies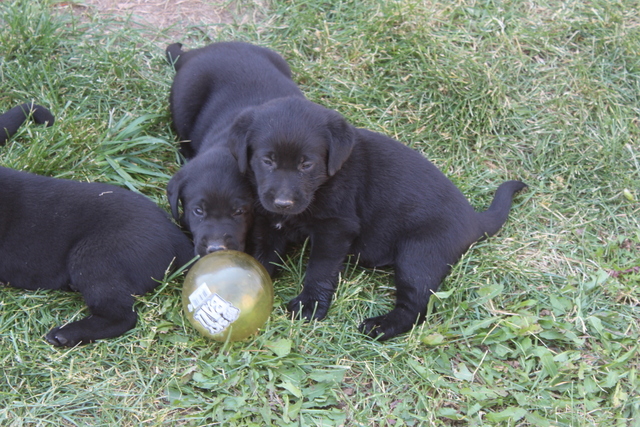 The Octopus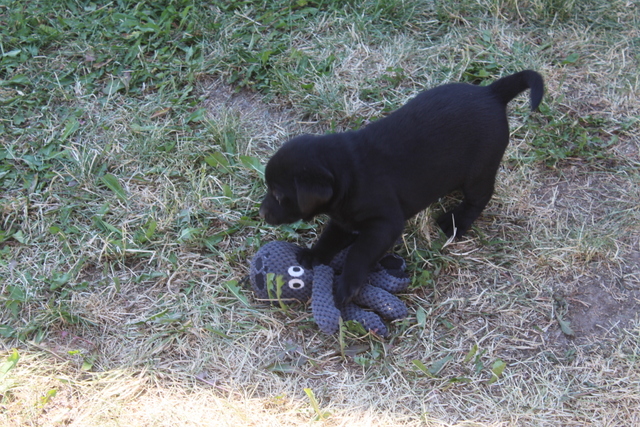 Ready for a knap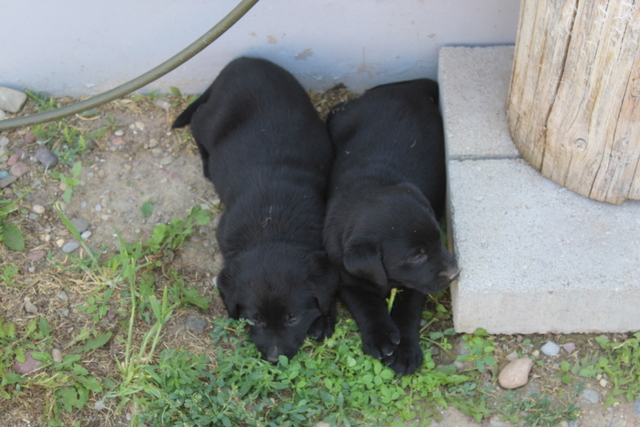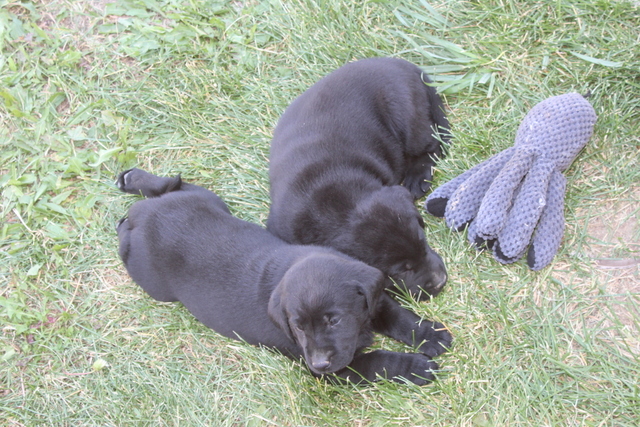 MaMa Char, with pregnant Candy,
away from pups for weaning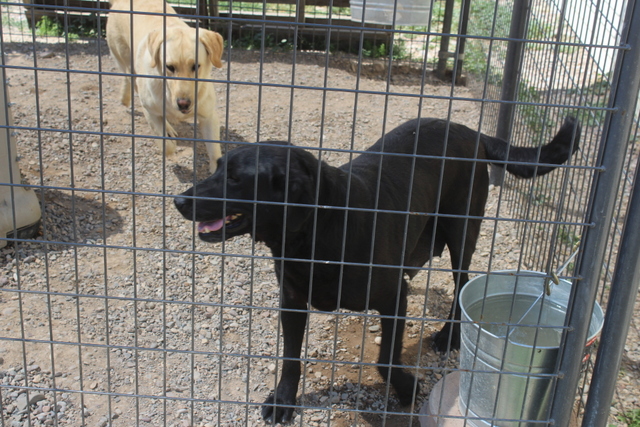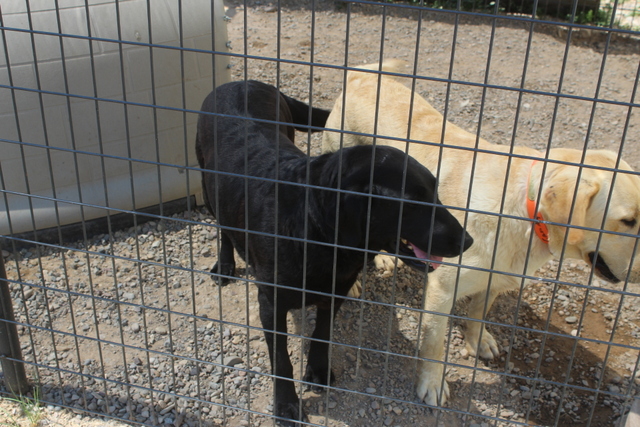 Pregnant Candy -- Due August 12th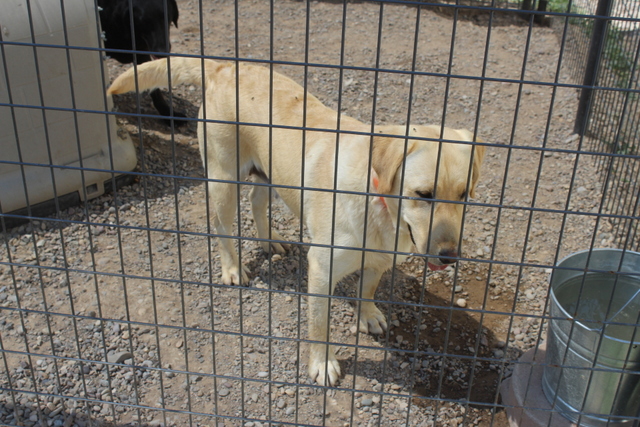 MaMa Char sayin', "Goodbye."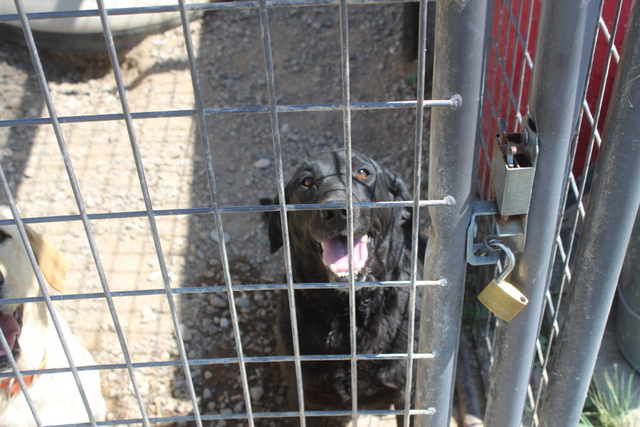 4 WEEK OLD PUPS
We have one black male left FOR SALE from this great litter.
Pups sleepin' in the shade outside in their whelping kennel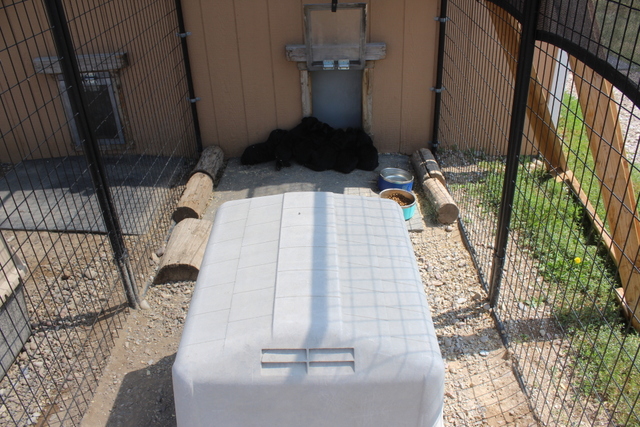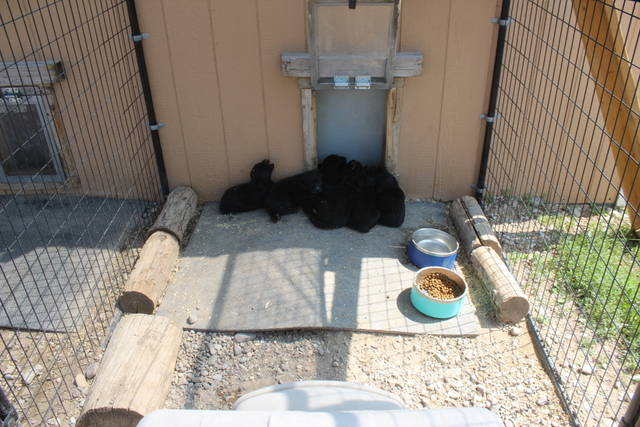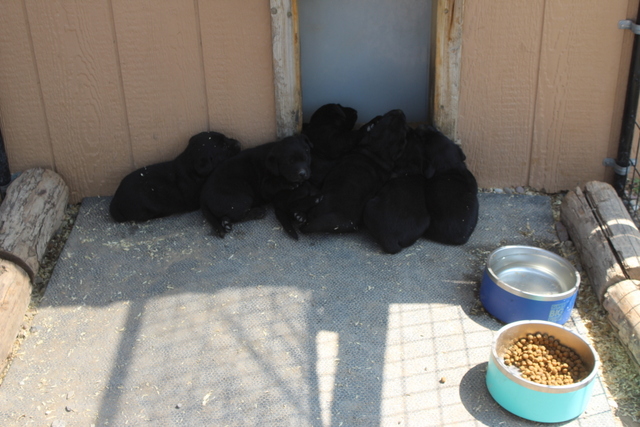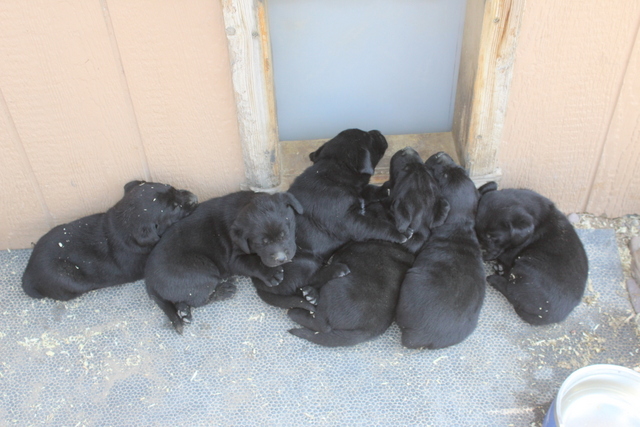 MaMa Char out back with our male Zeke . . .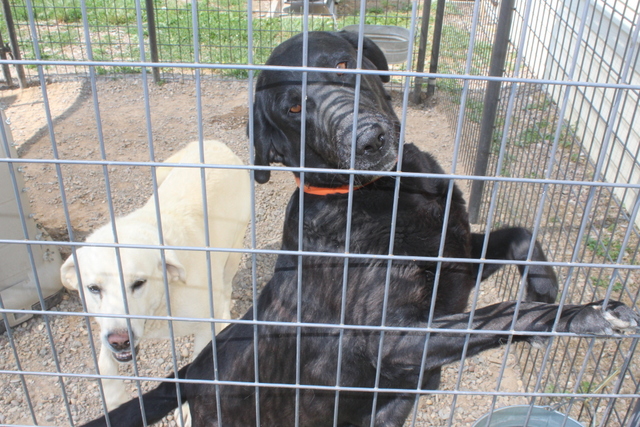 . . . enjoyin' the peace and quiet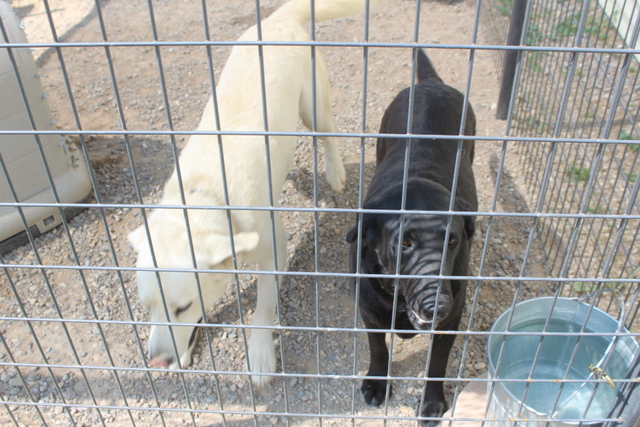 Pups sleepin' in their Air Conditioned inside whelping pen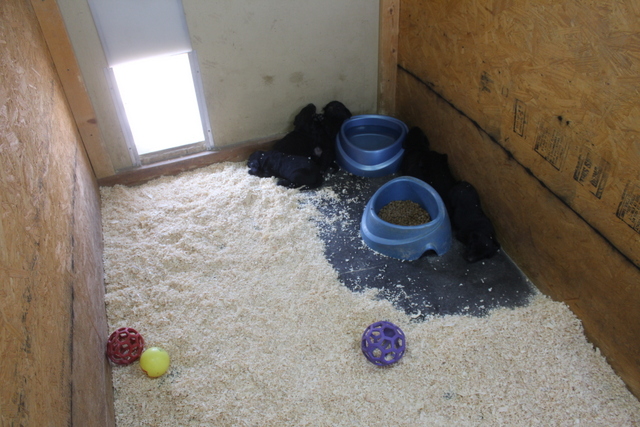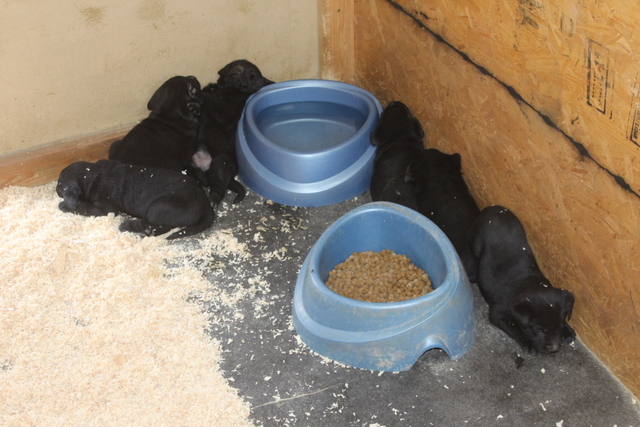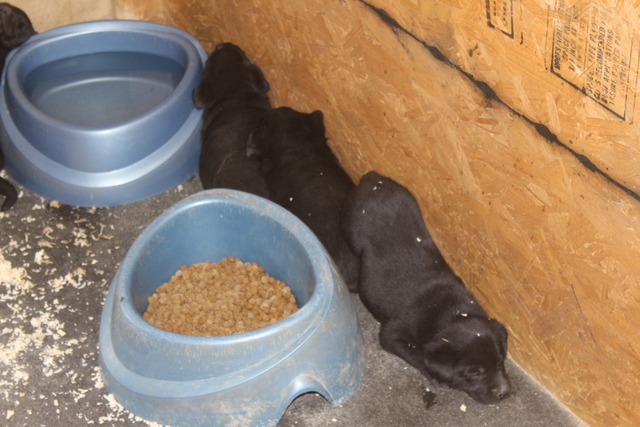 Comfortable are Ya, Big Boy?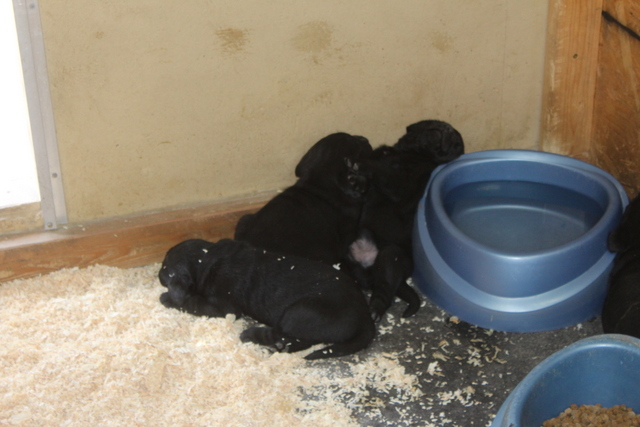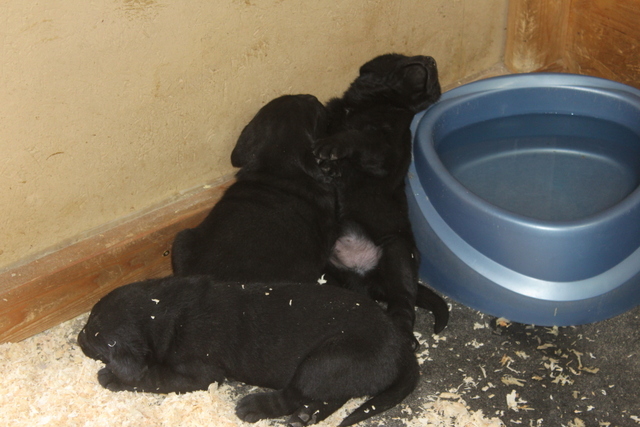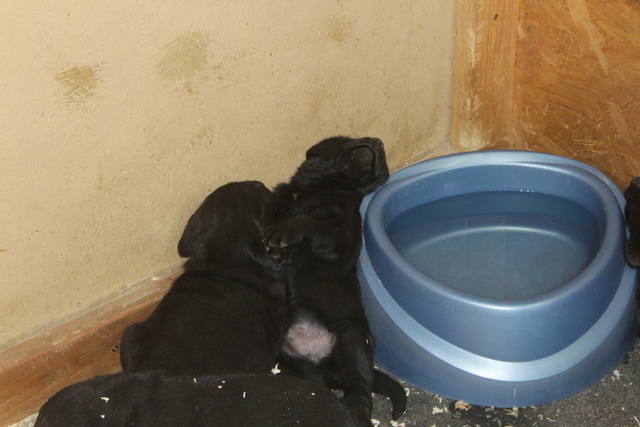 Up and at 'em!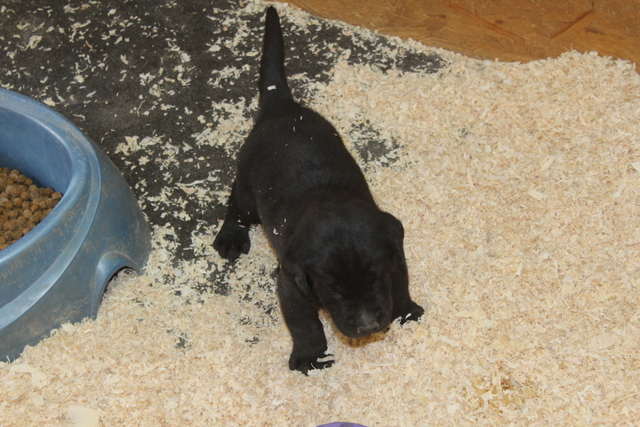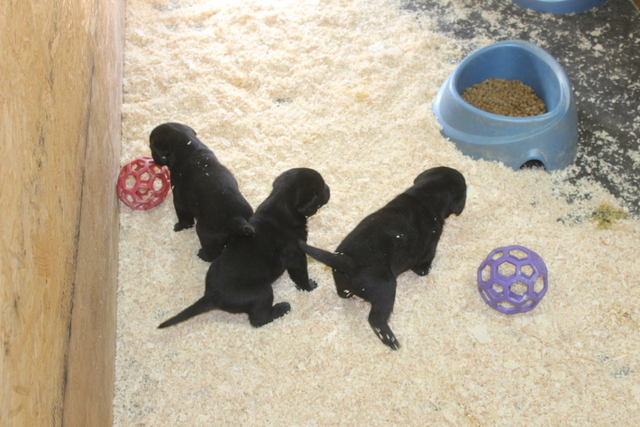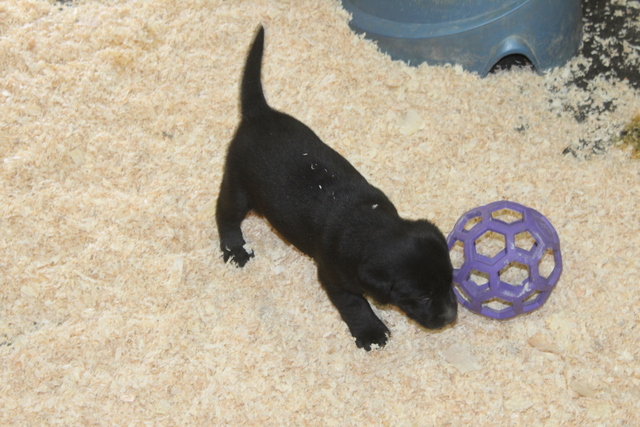 Time to get out?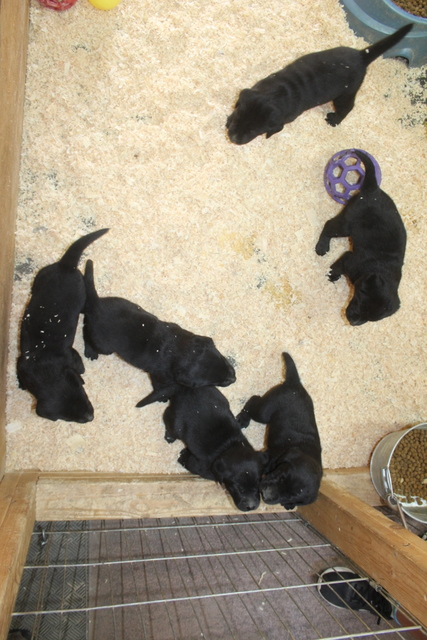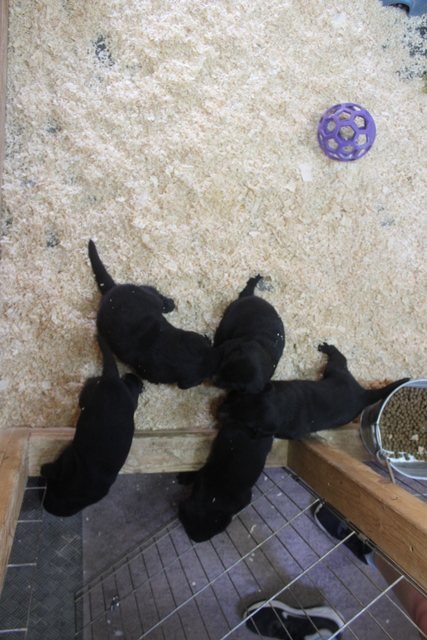 Escape from Alkatraz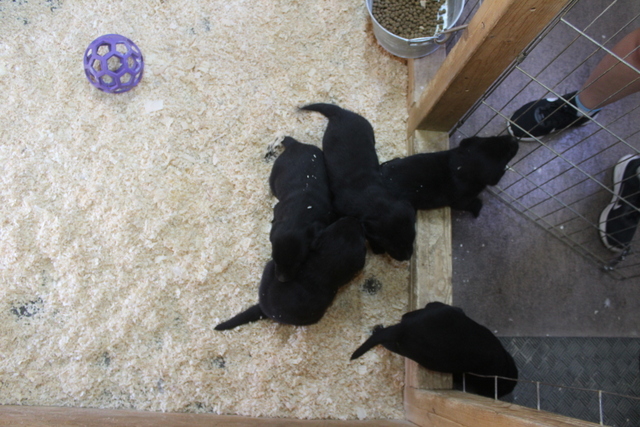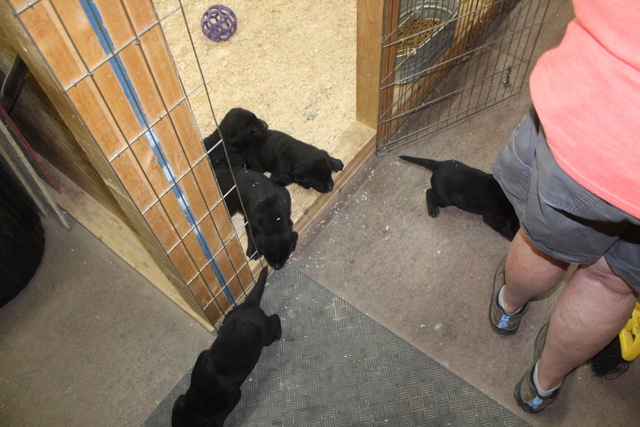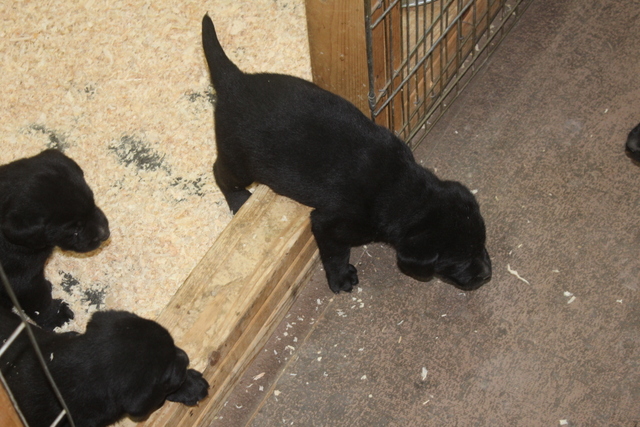 Outside in the grass checkin' things out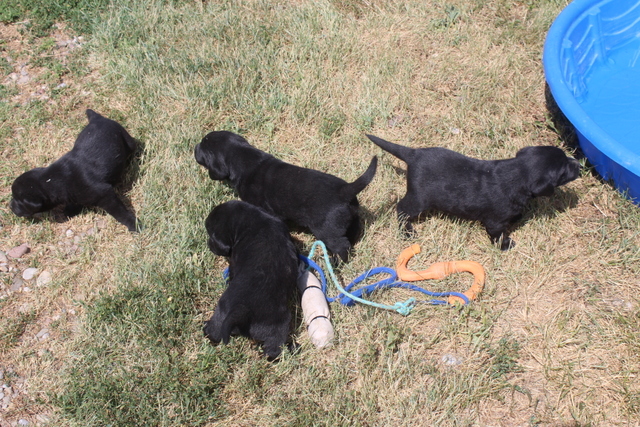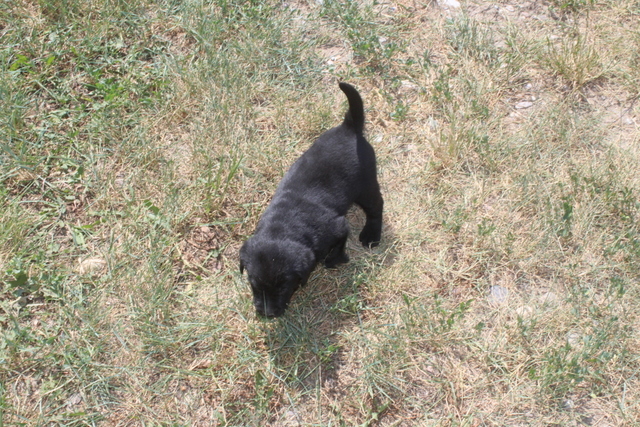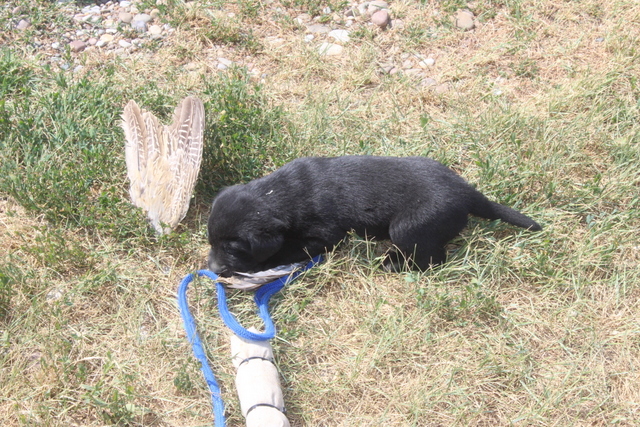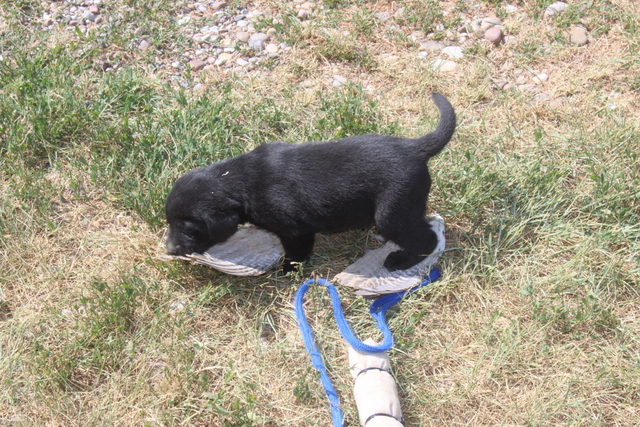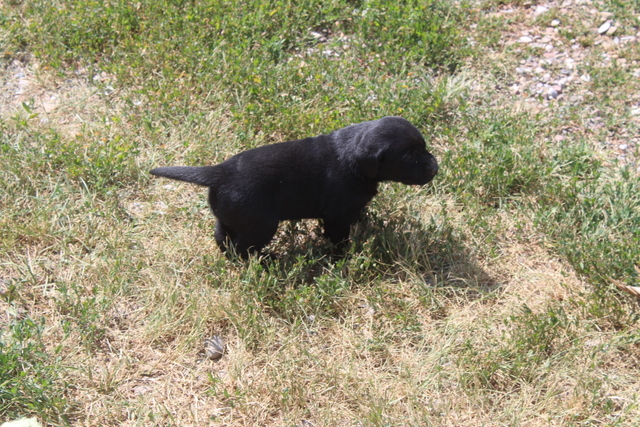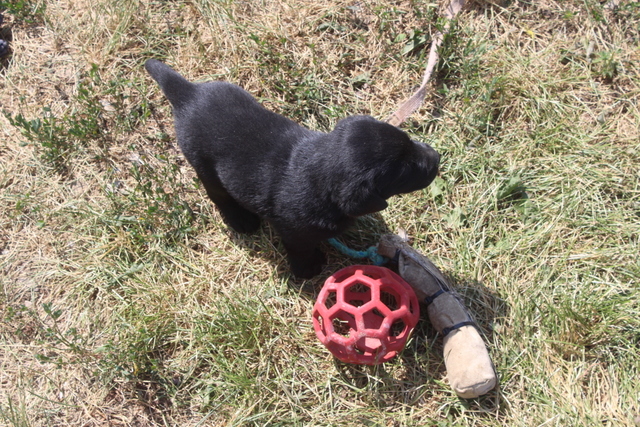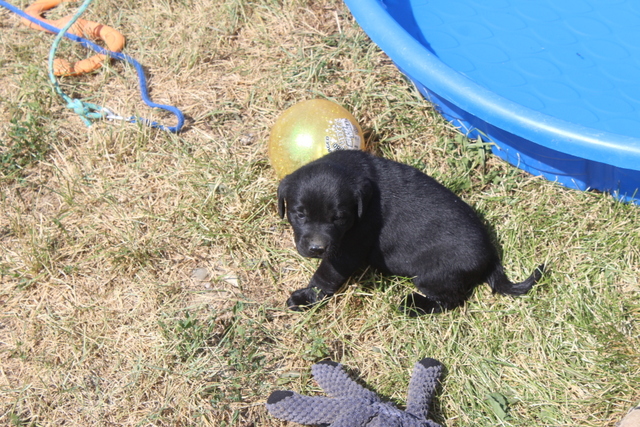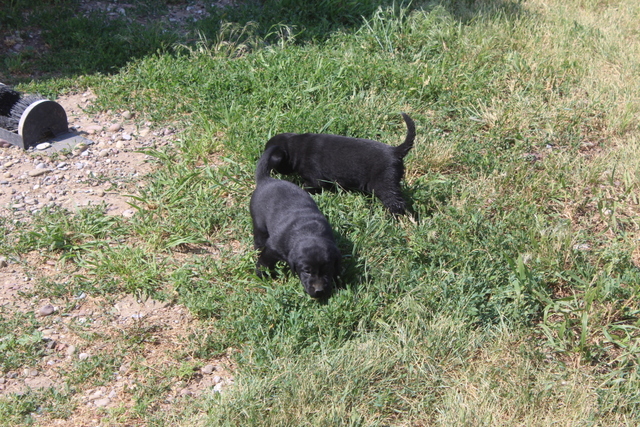 Intro to Water 101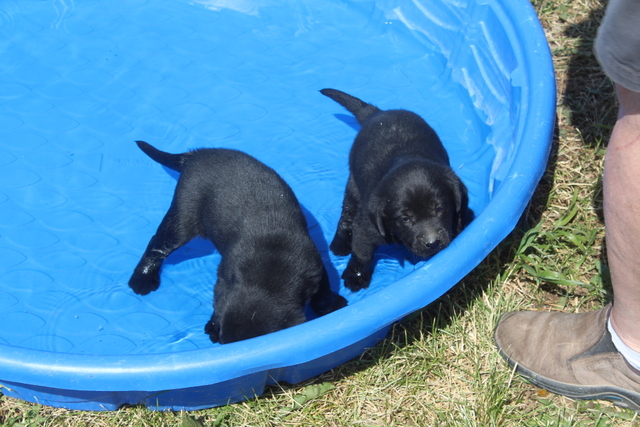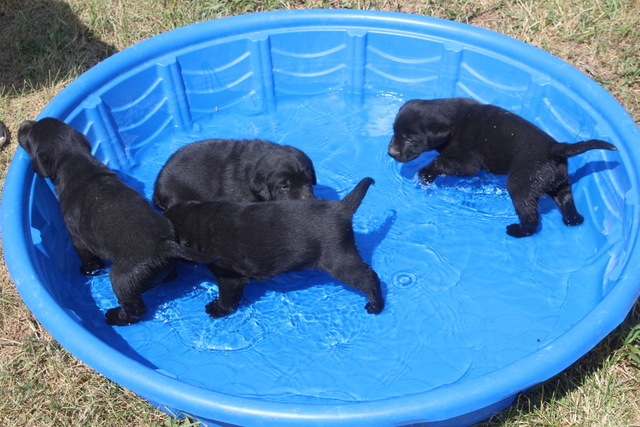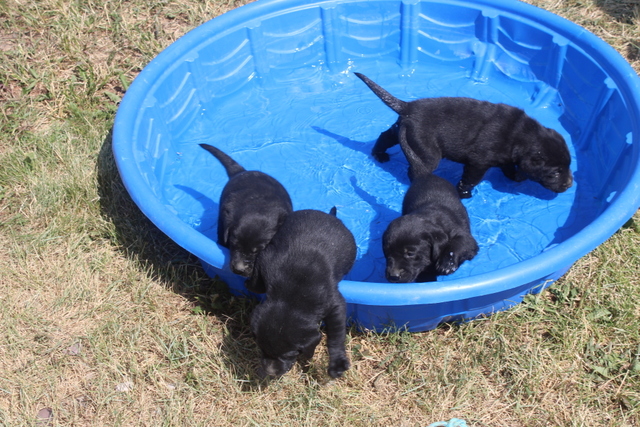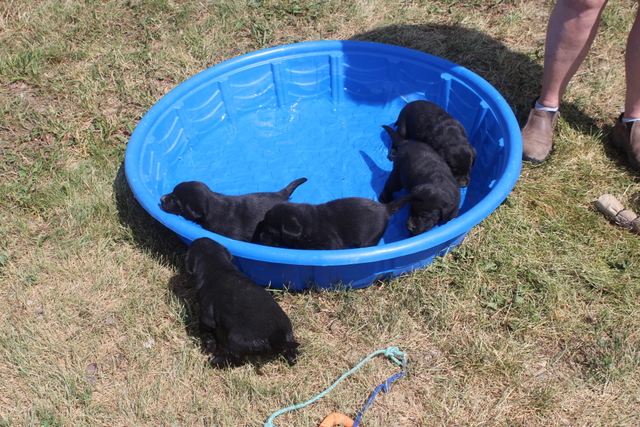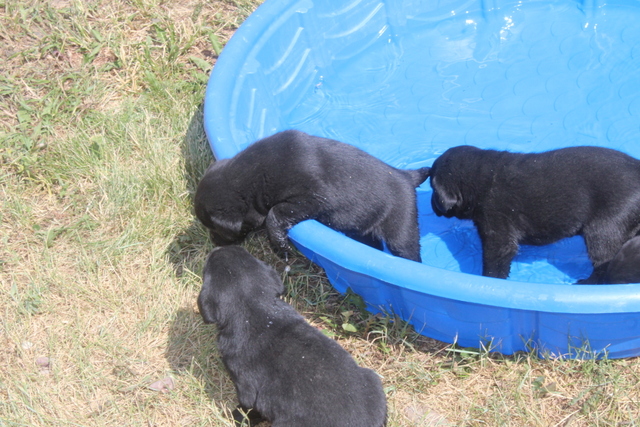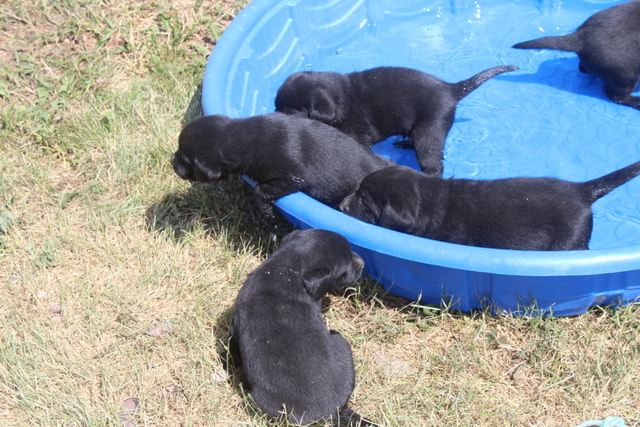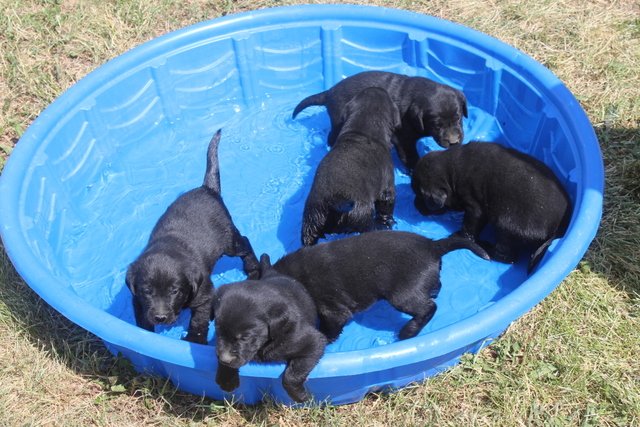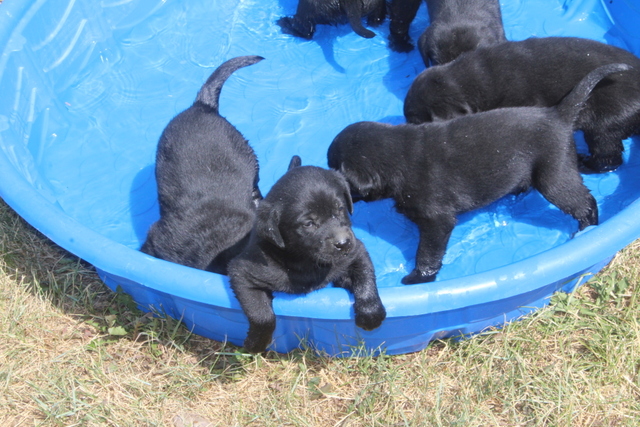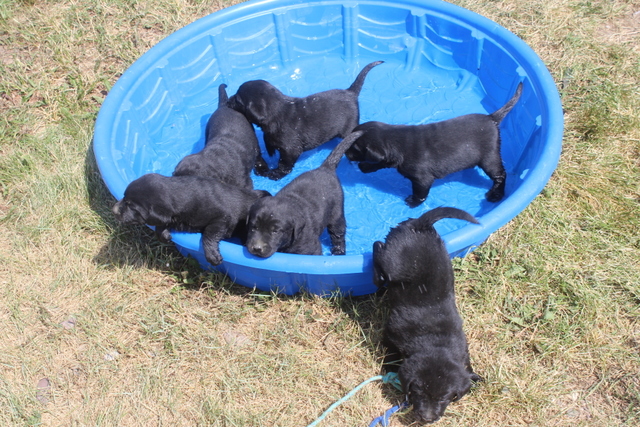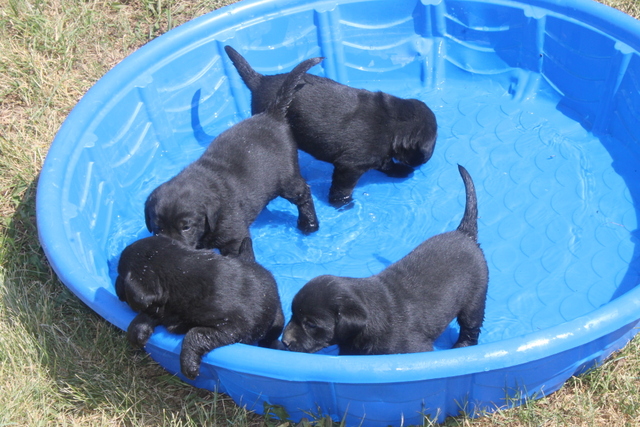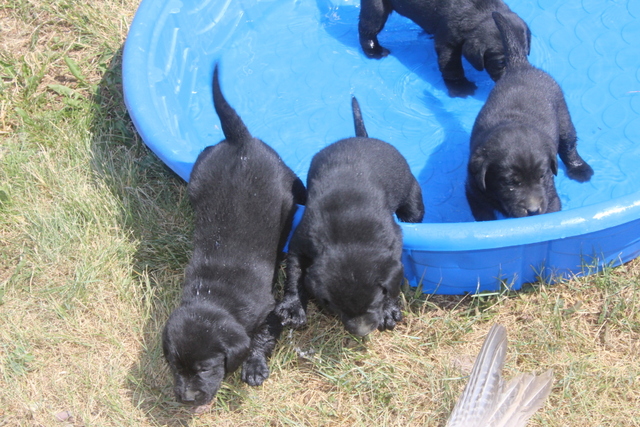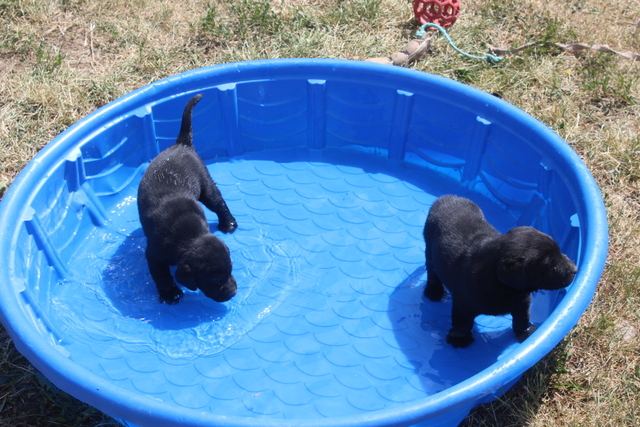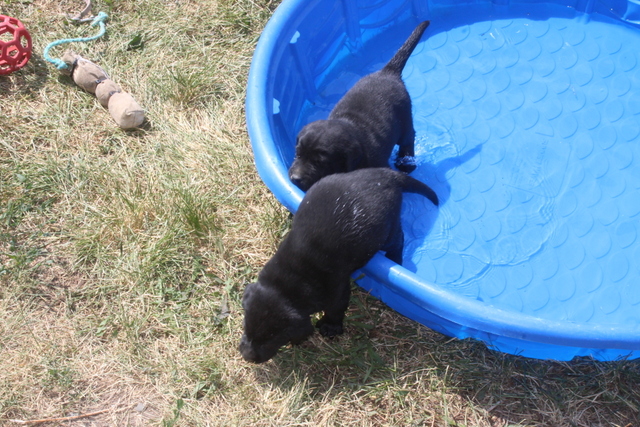 Last one out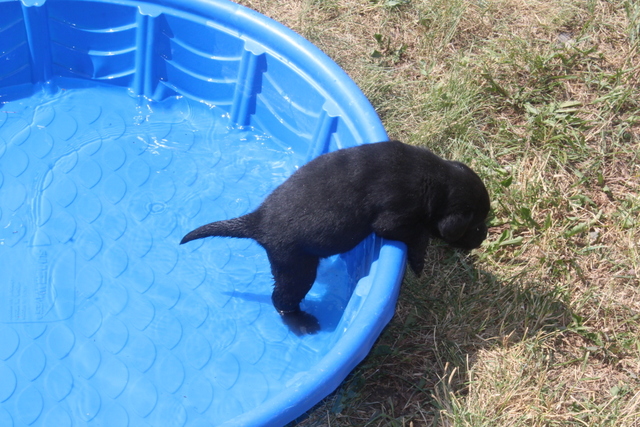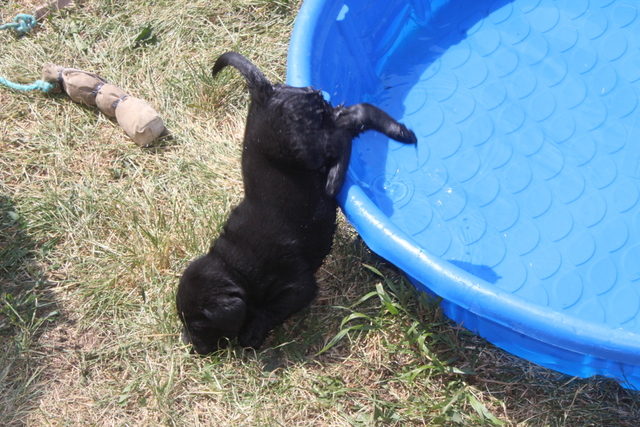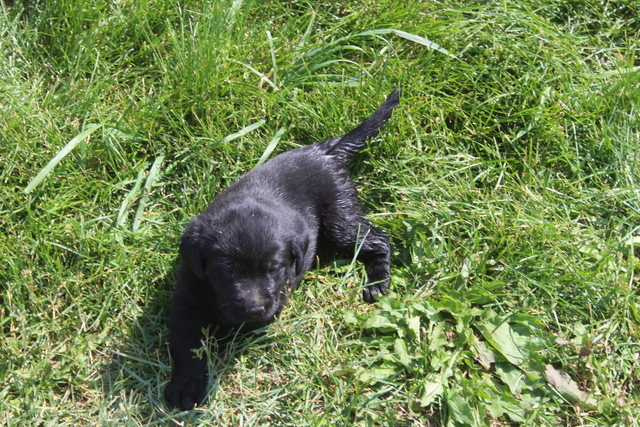 One of our kennel techs -- Kimber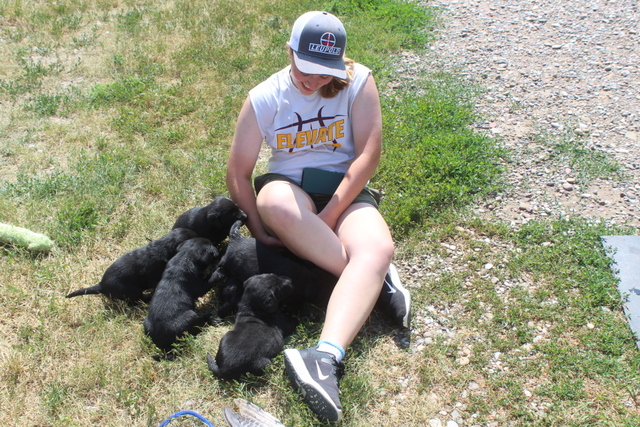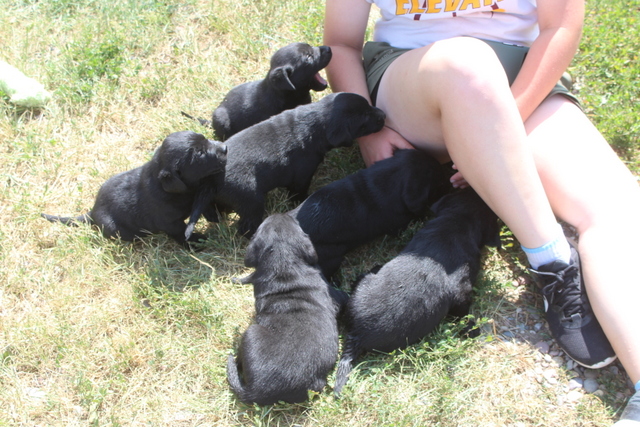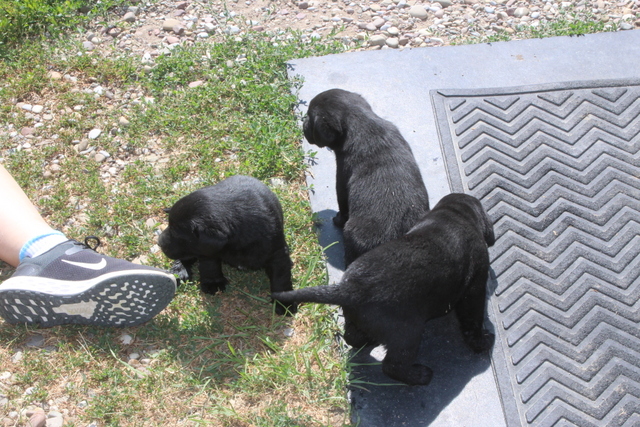 These pups love her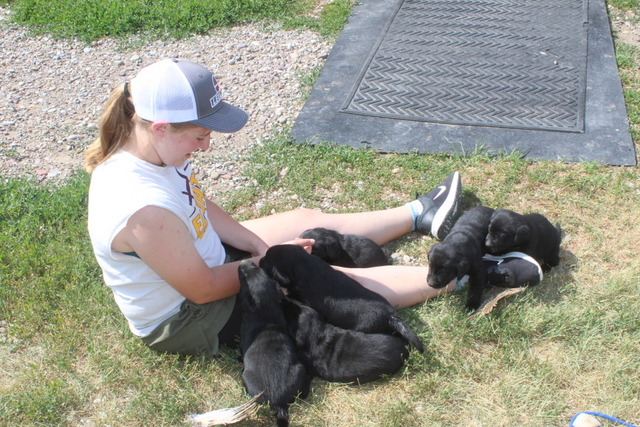 Some pups wanted back in the water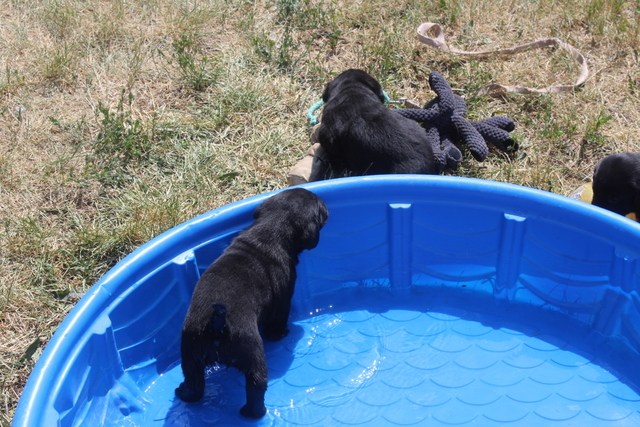 But not for long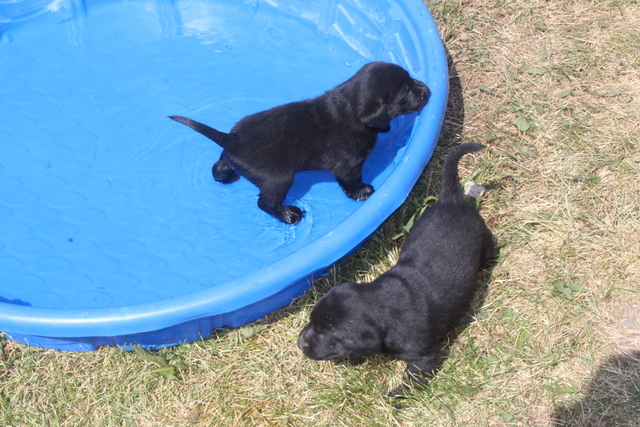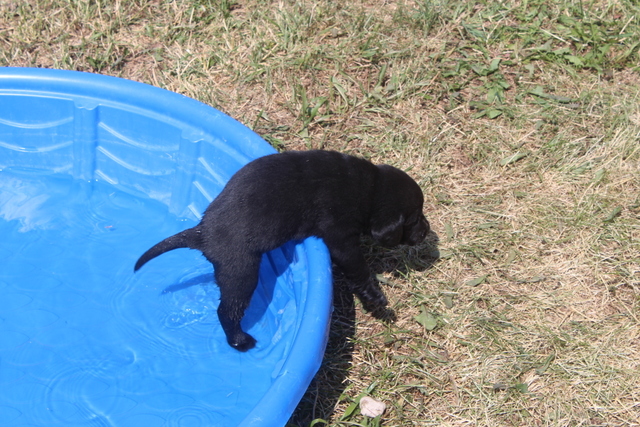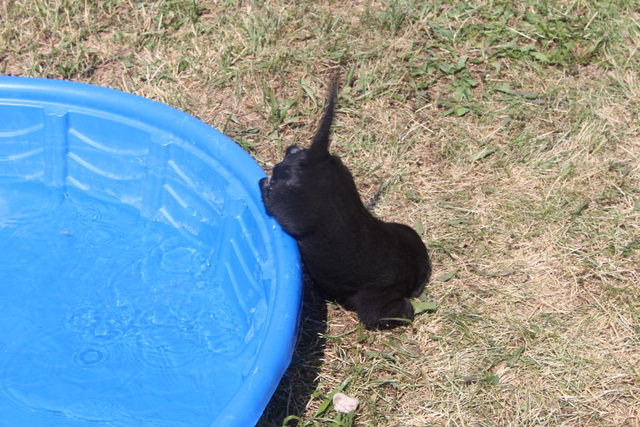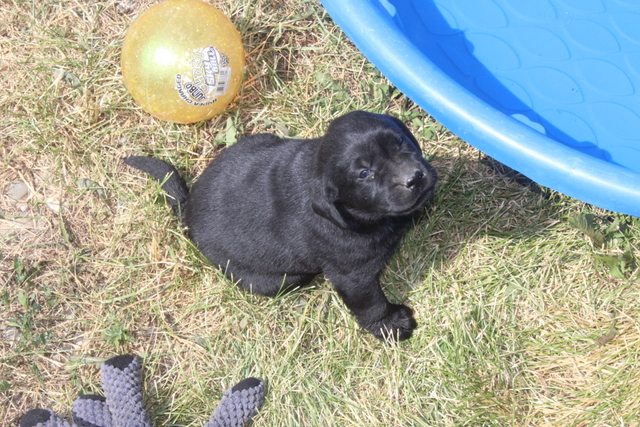 What's next?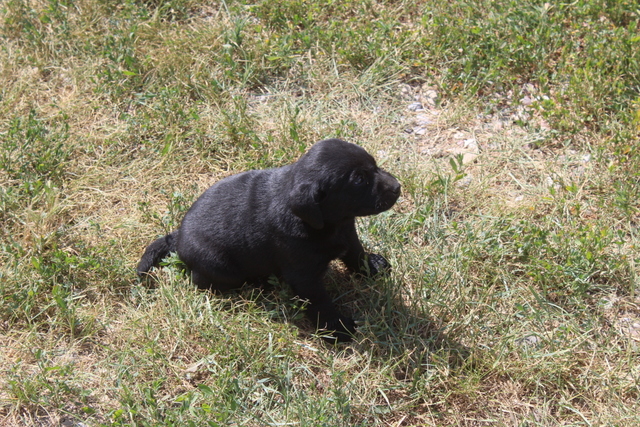 Milk replacer and kibble!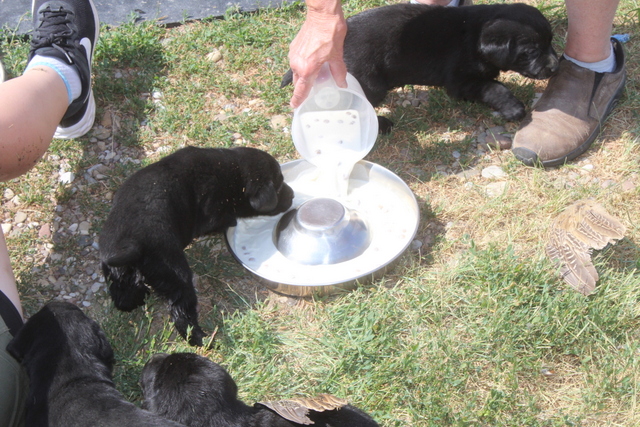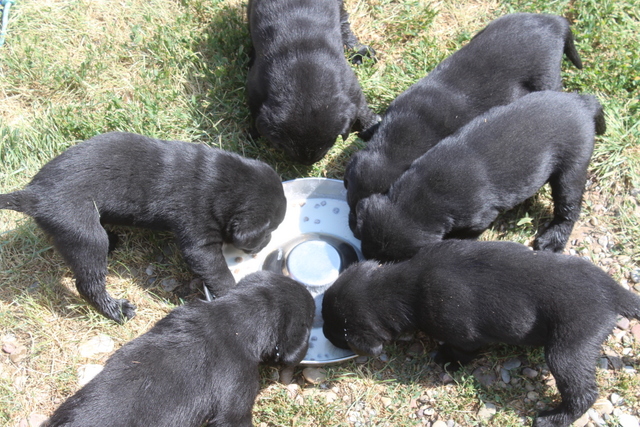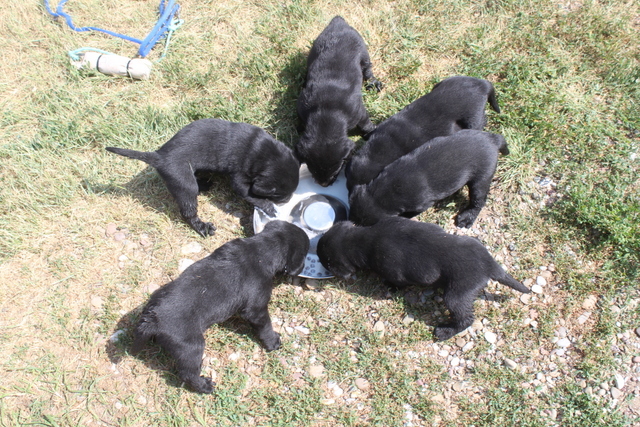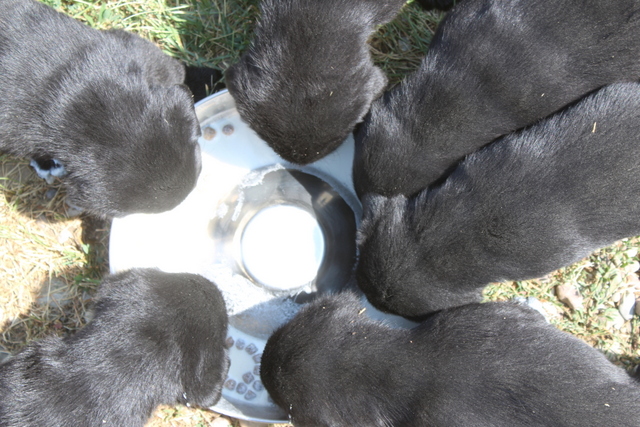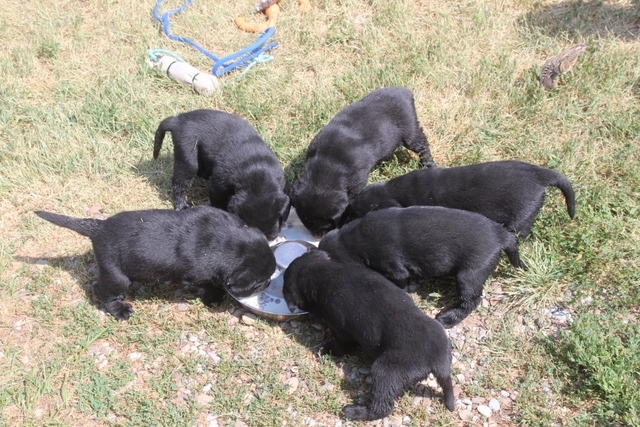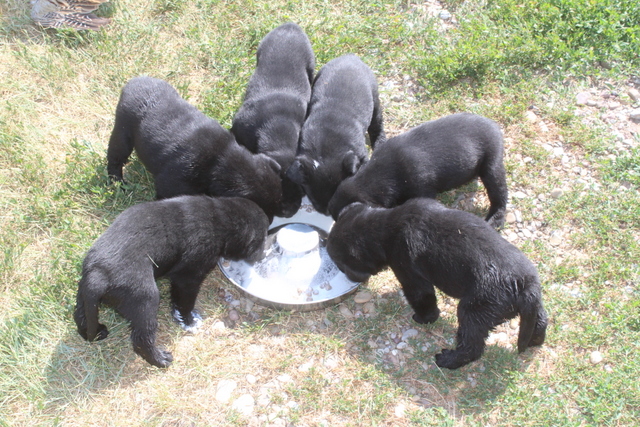 3 WEEK OLD PUPS
In the whelping facility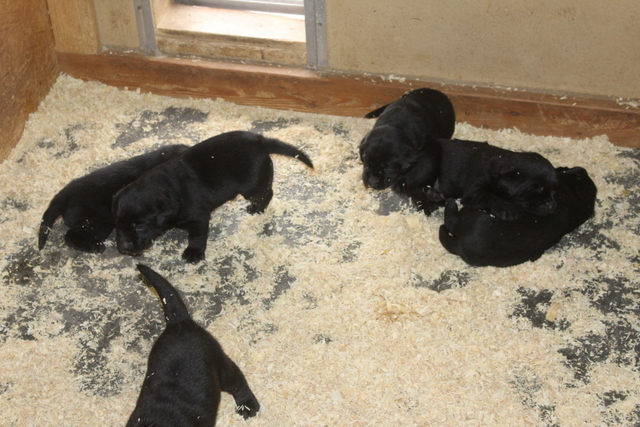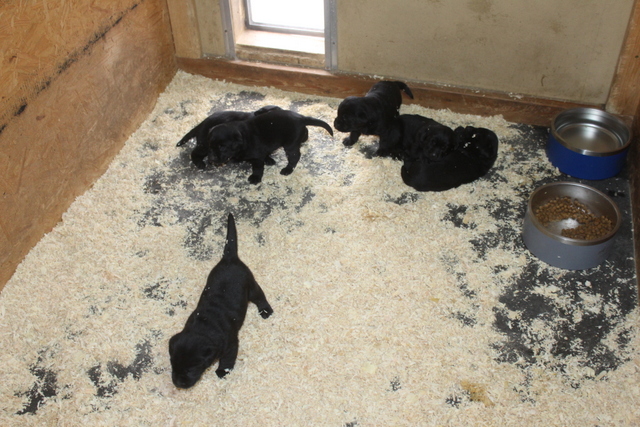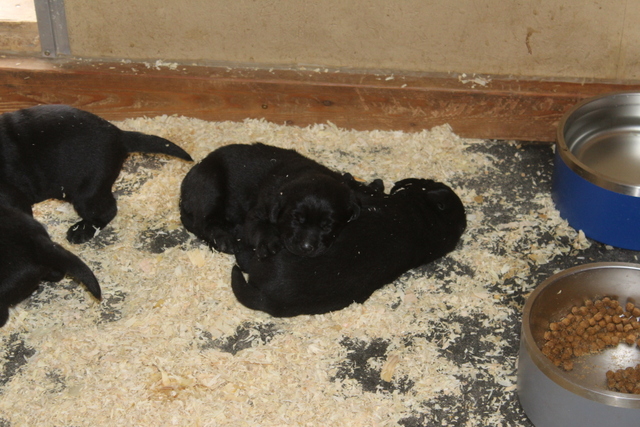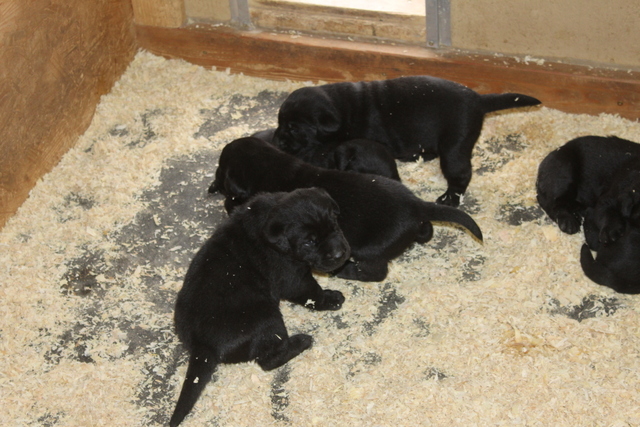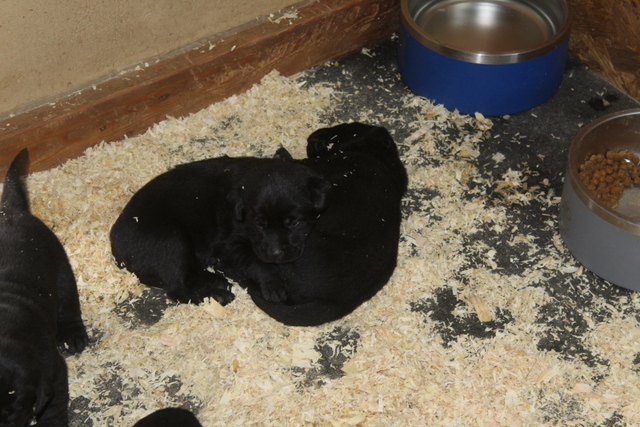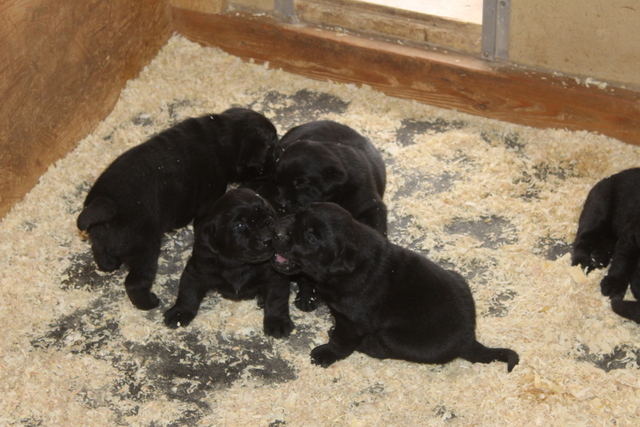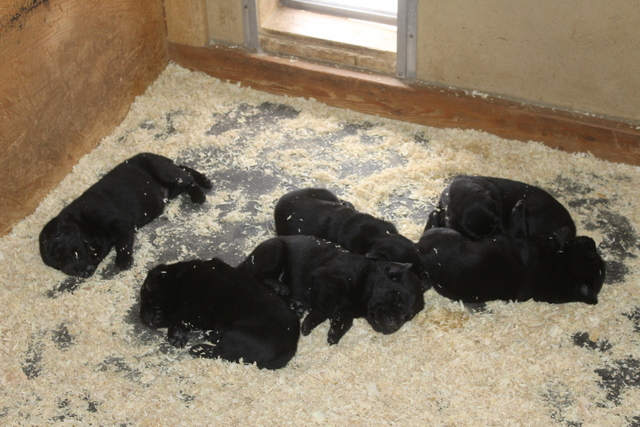 Char's treat time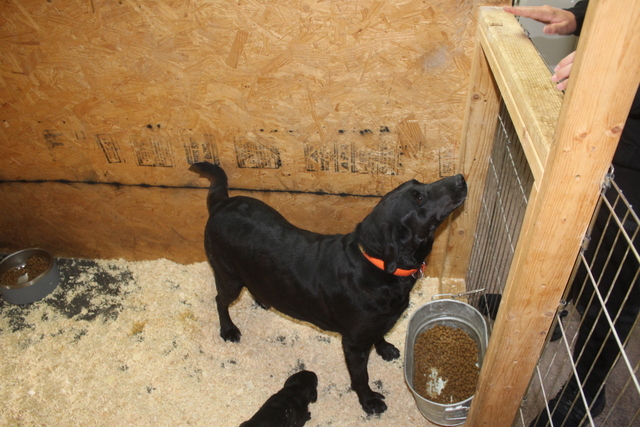 Puppy lookin' for a treat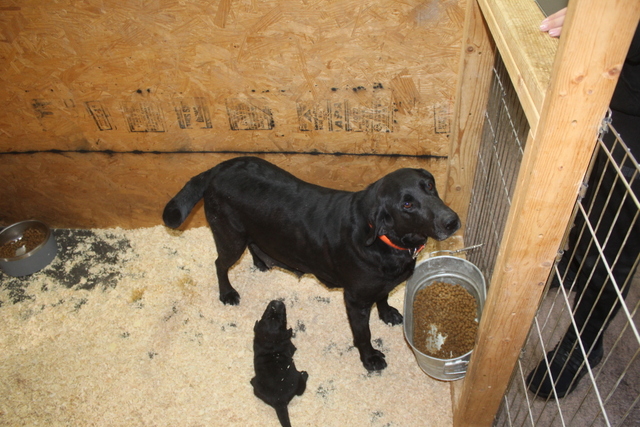 BINGO!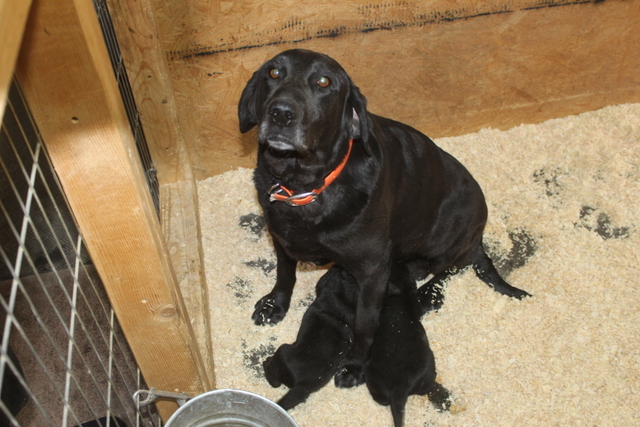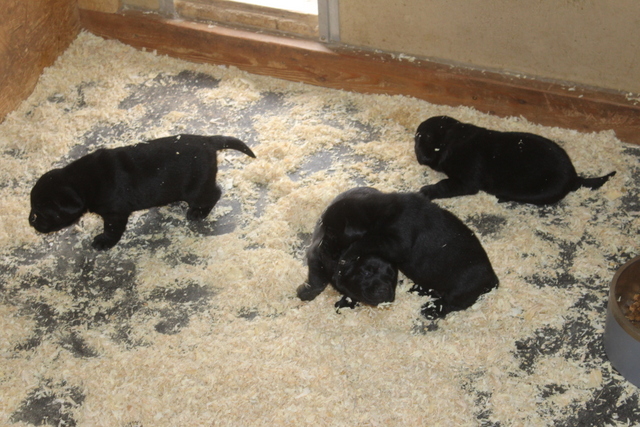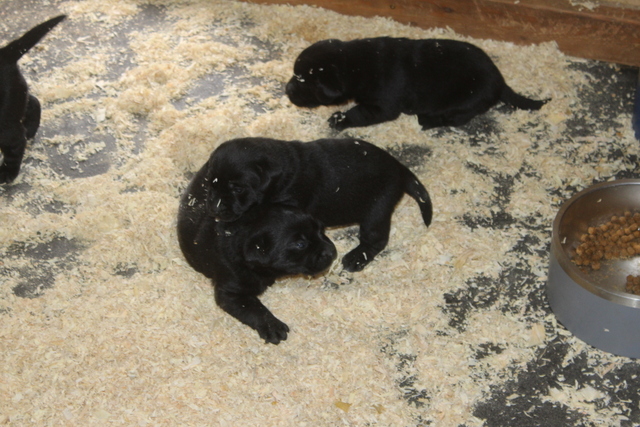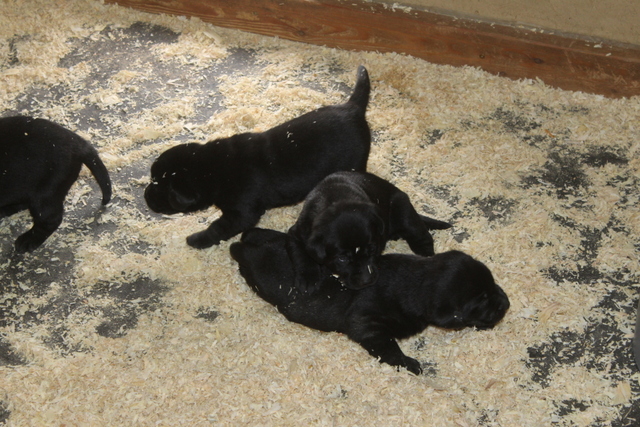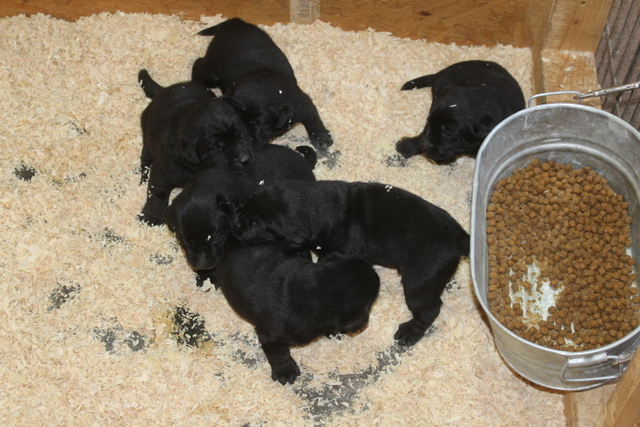 3 Week Old Exams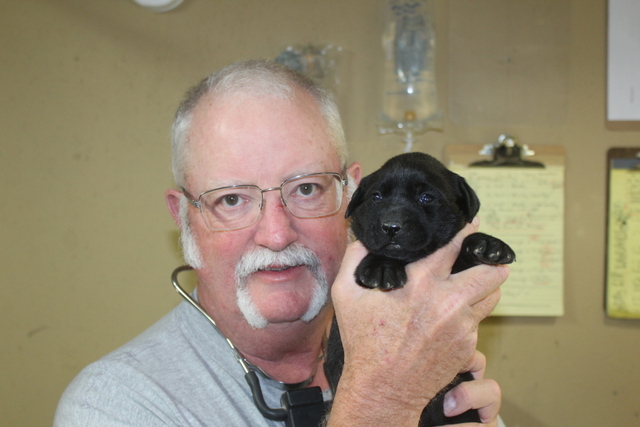 Pretty puppy
Dr. Doug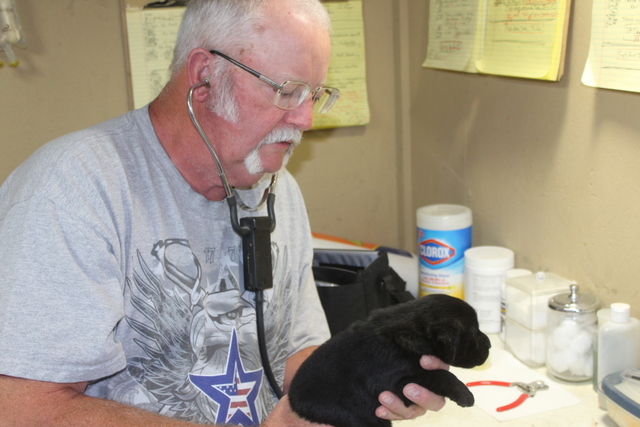 Healthy Puppy
Checkin' things out . . .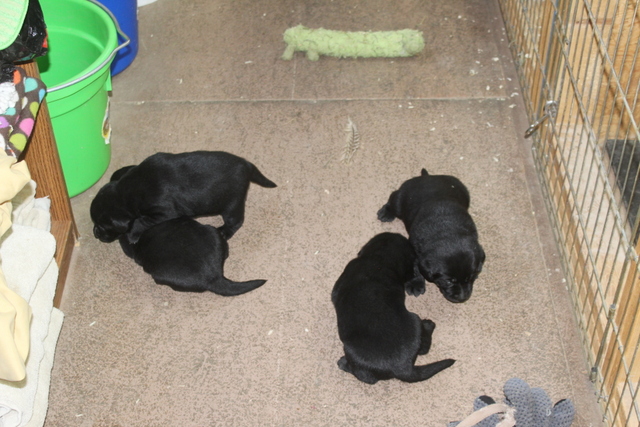 . . . outside their whelping pen

Each other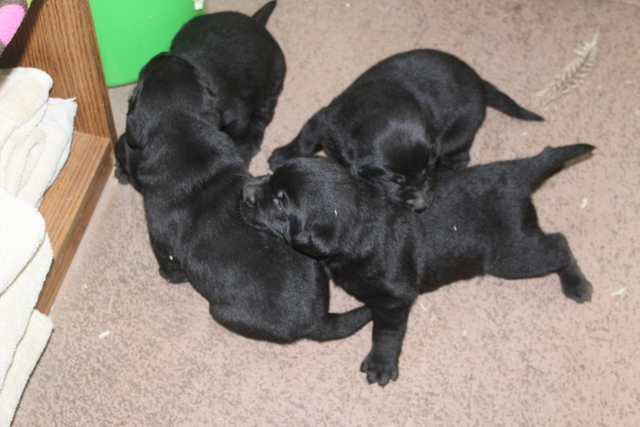 The octopus

Granddaughter Michelle helpin' out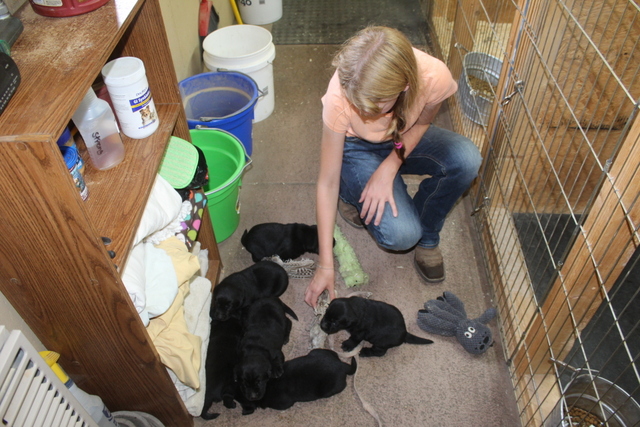 Loofa and feathers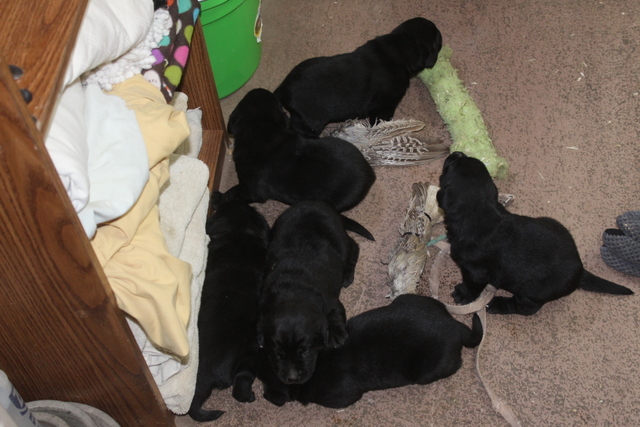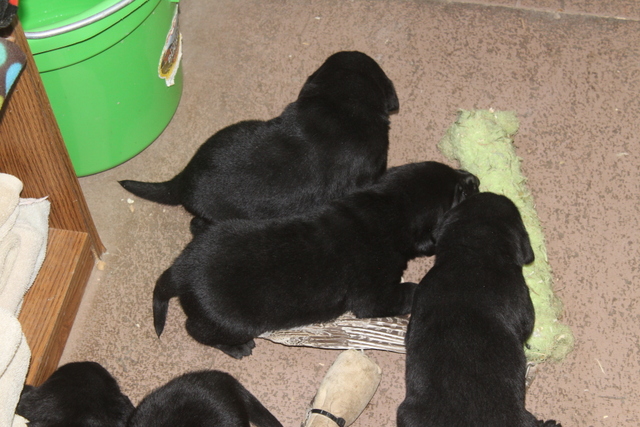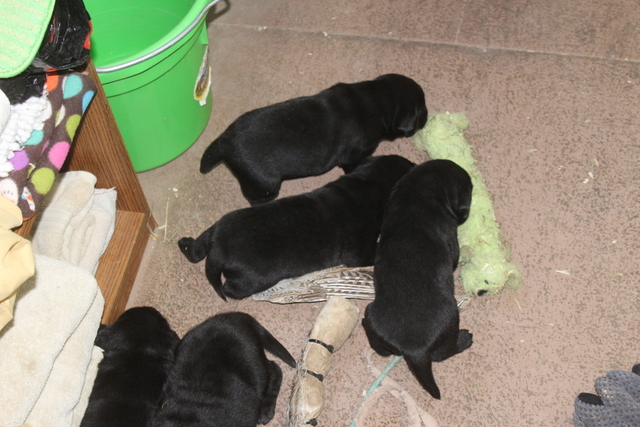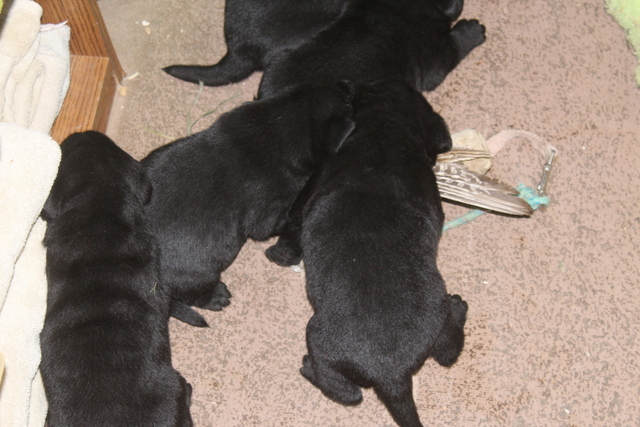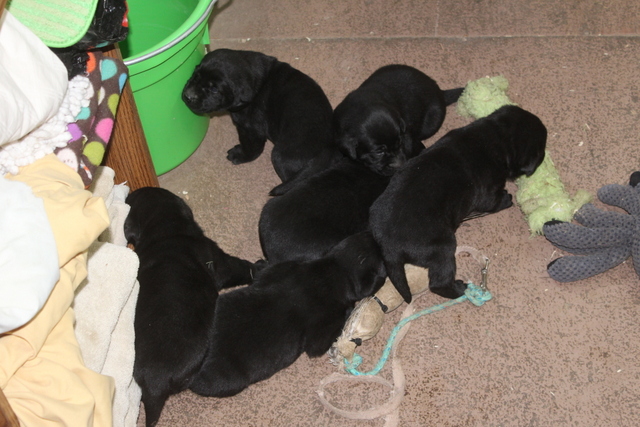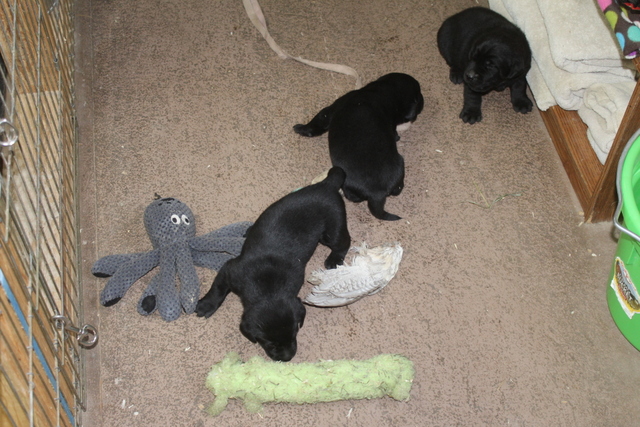 Pups outside in the grass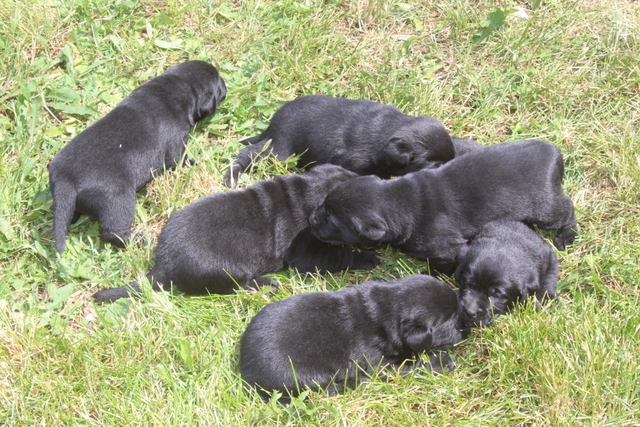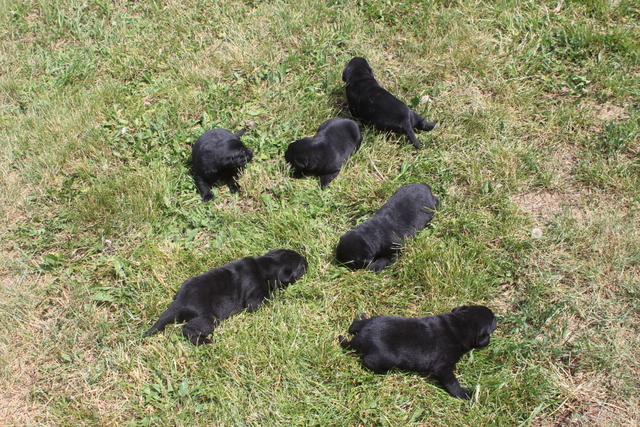 Sleepin' in the sun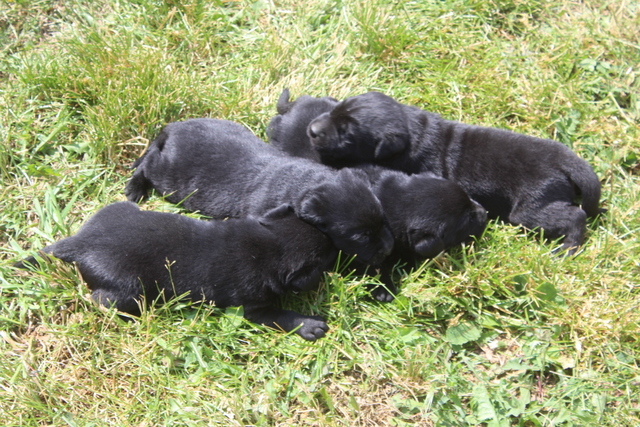 Howlin' in the grass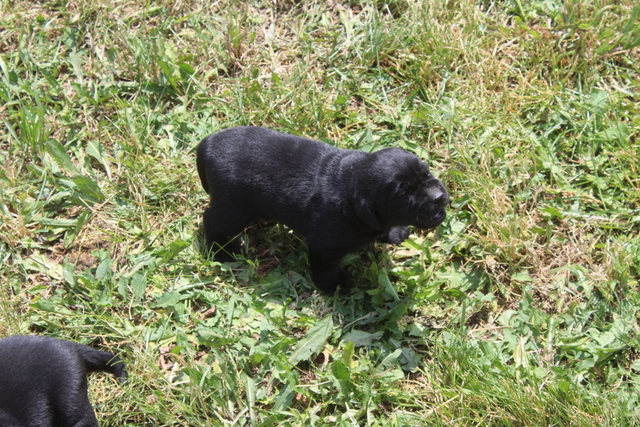 Sniffin' the grass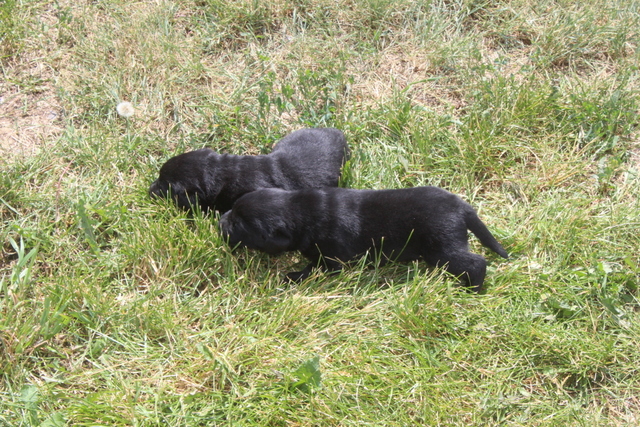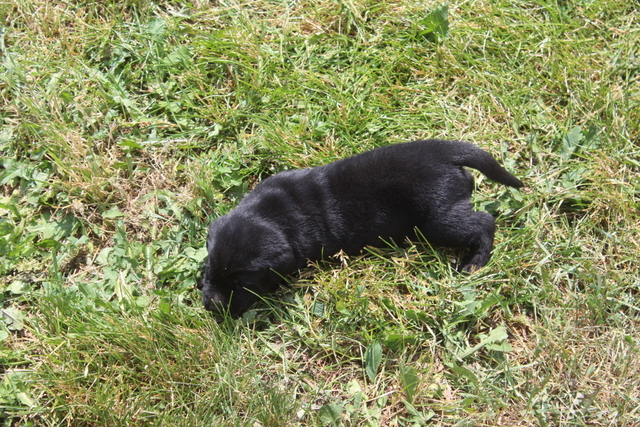 Hunt 'em out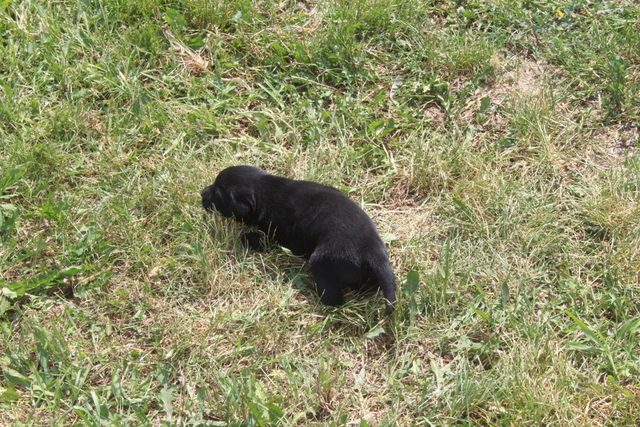 Soakin' up more saunshine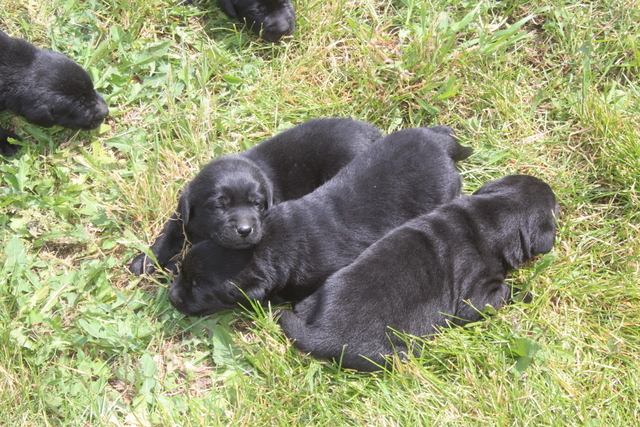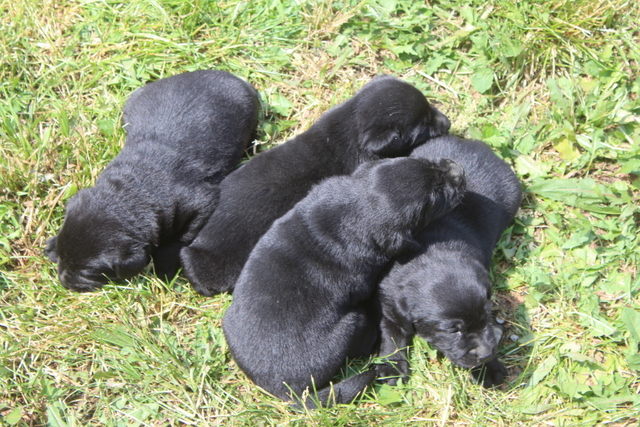 One of our new kittens -- Sooty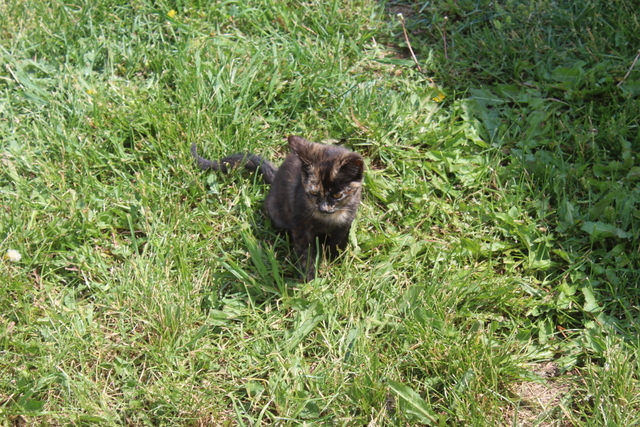 Loofa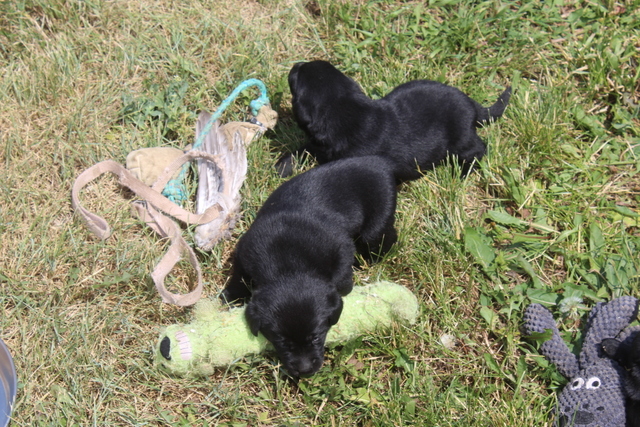 Octopus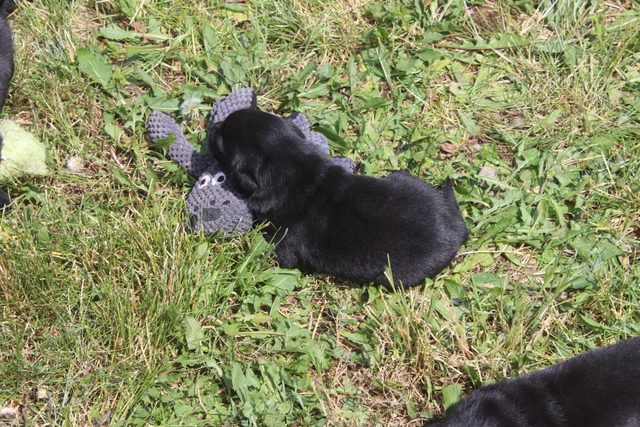 Granddaughter Michelle with the sun in her eyes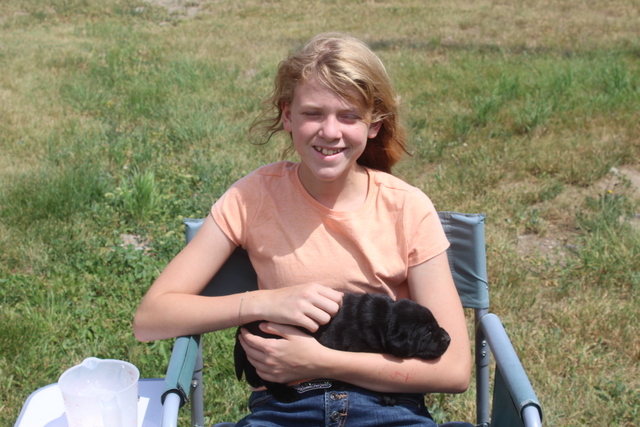 Here comes Sooty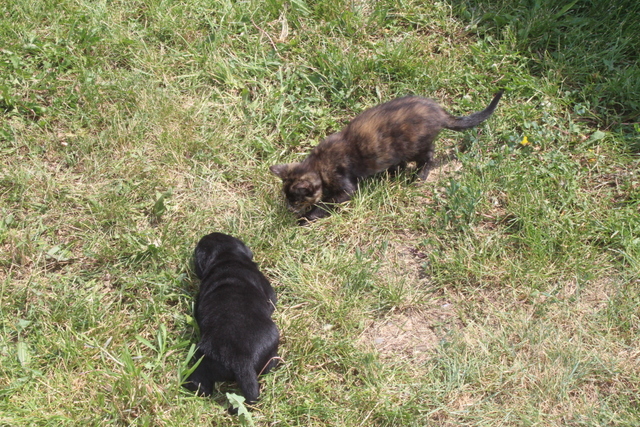 Weaning time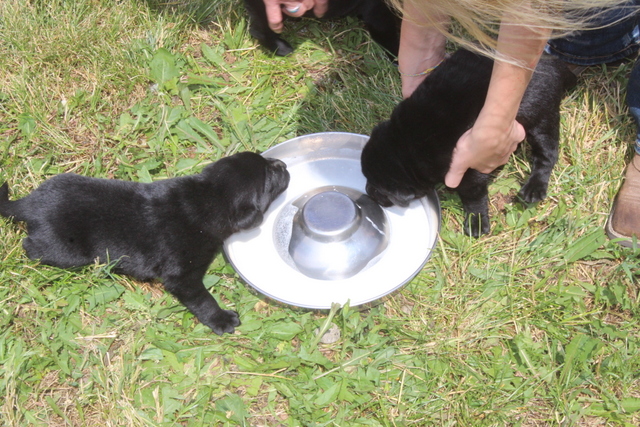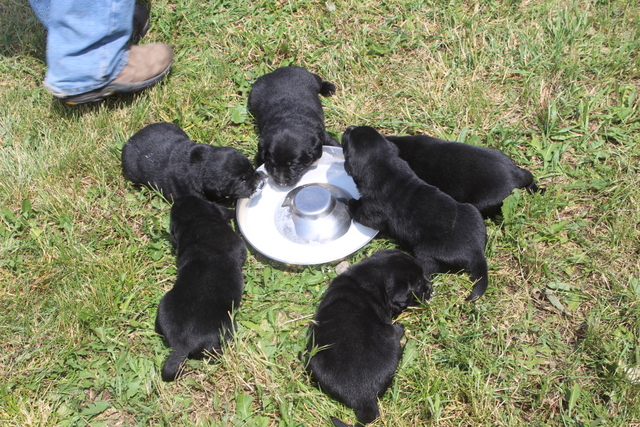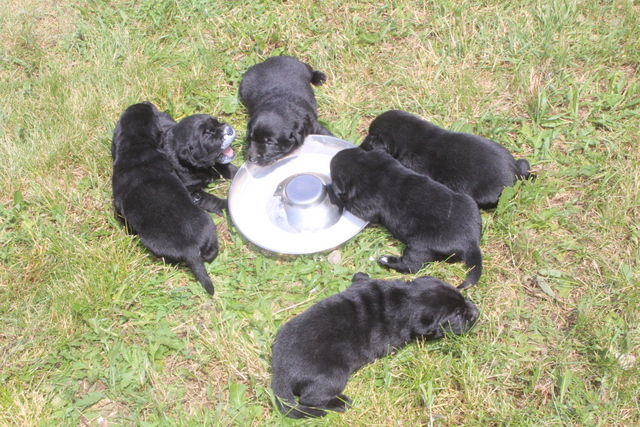 Hey! Is that milk?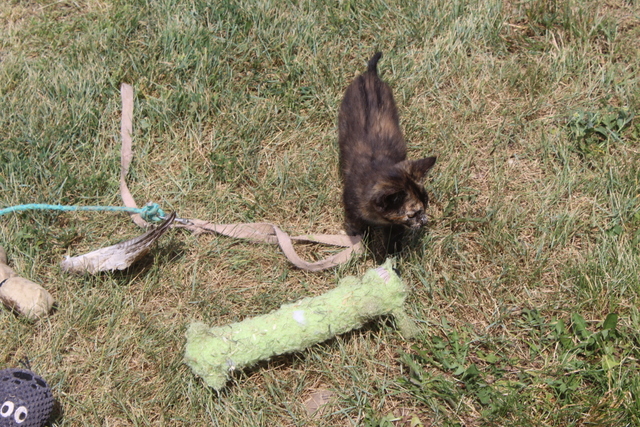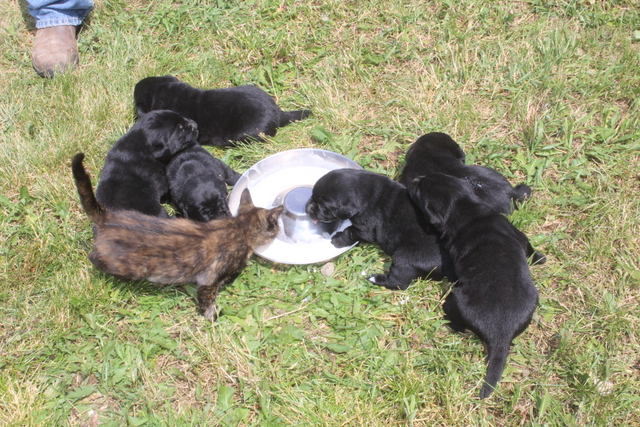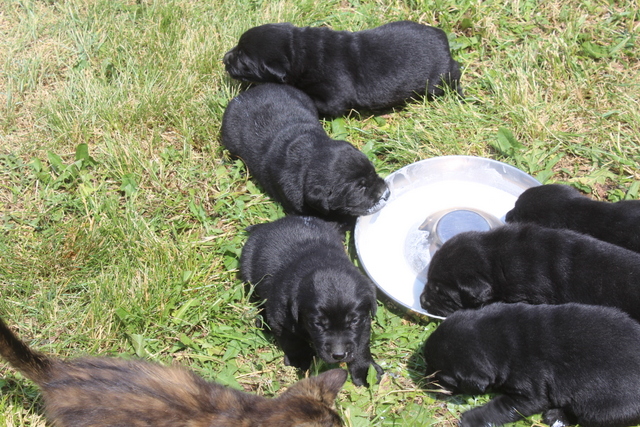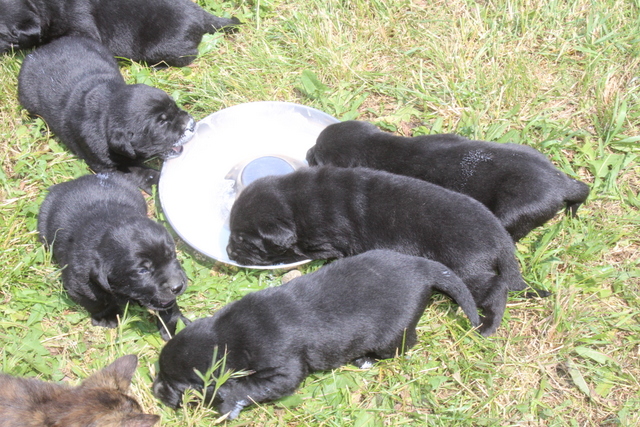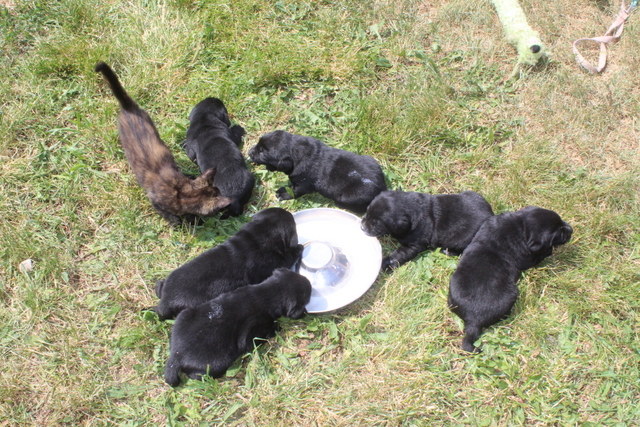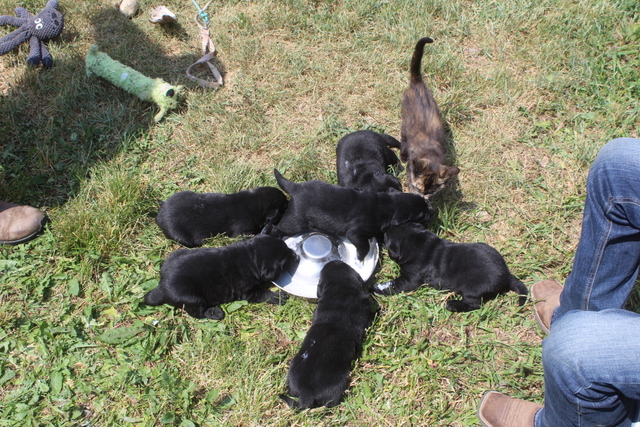 Real milk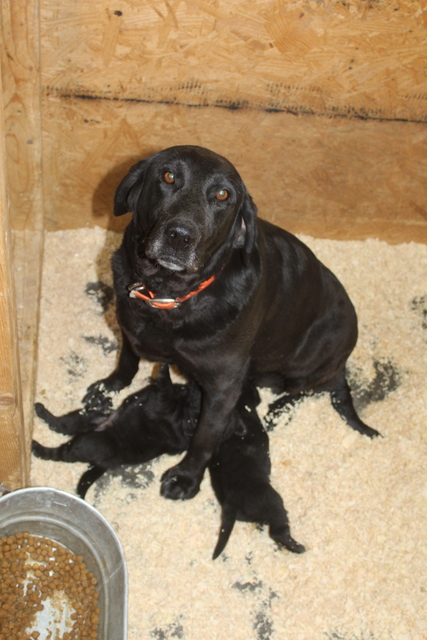 Goodbye

2 WEEK OLD PUPS
Char with her six pups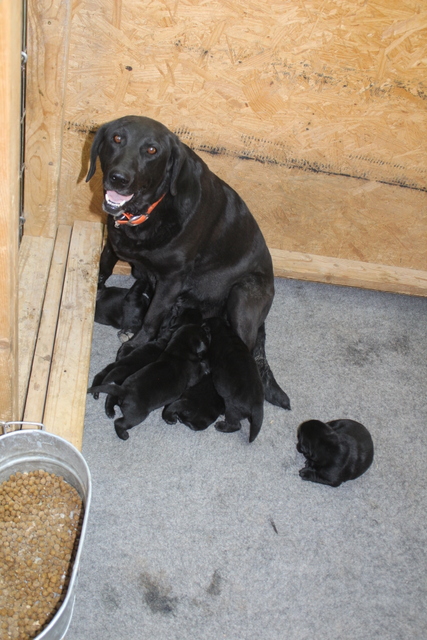 Suckin' up a storm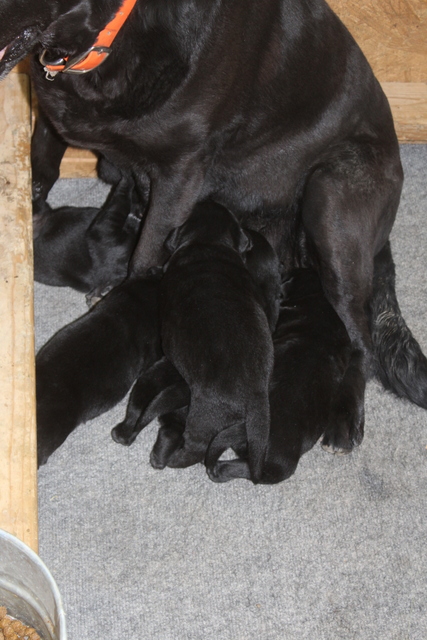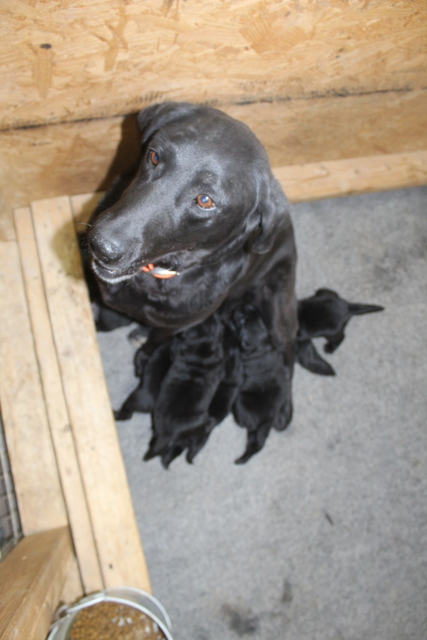 They're gettin' big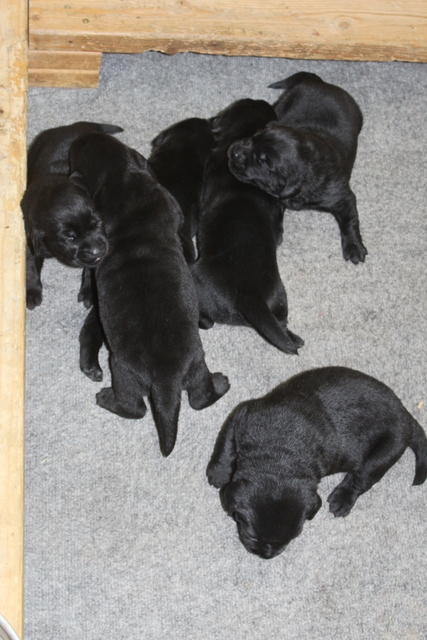 Their eyes are opening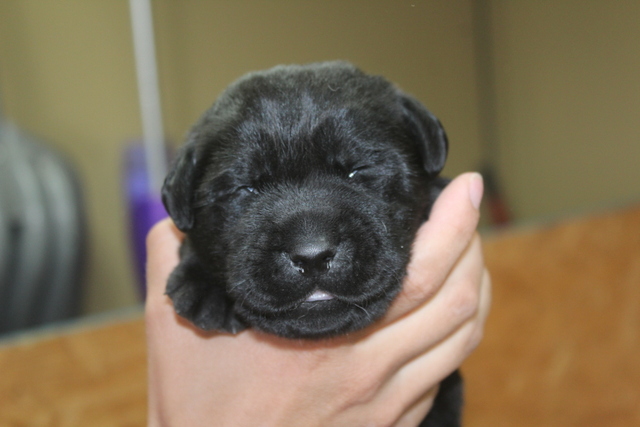 Big Male

OPEN!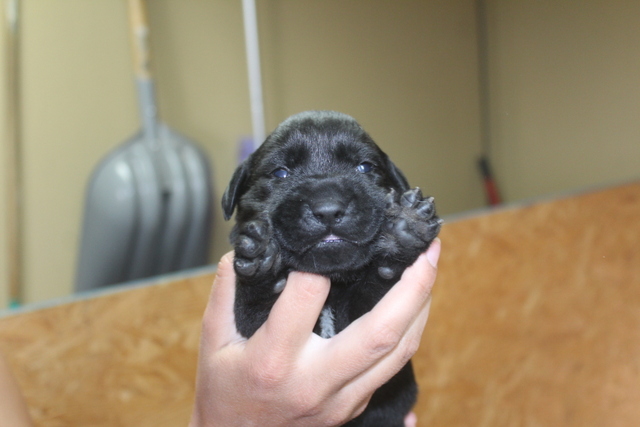 Little Female
Startin' to get around . . .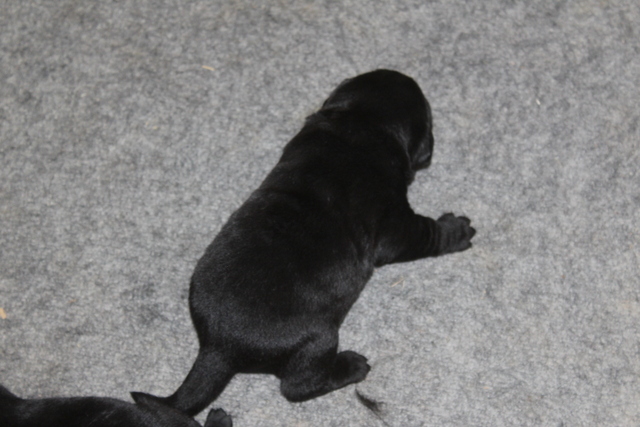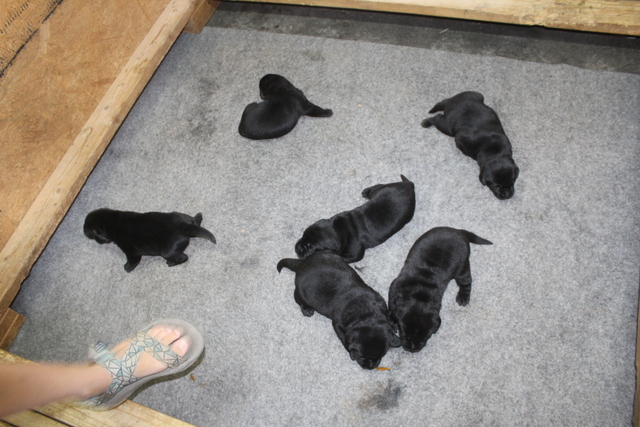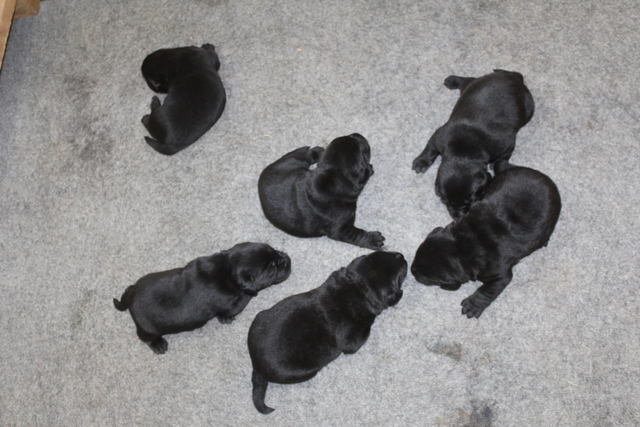 . . . but still sleepin' a lot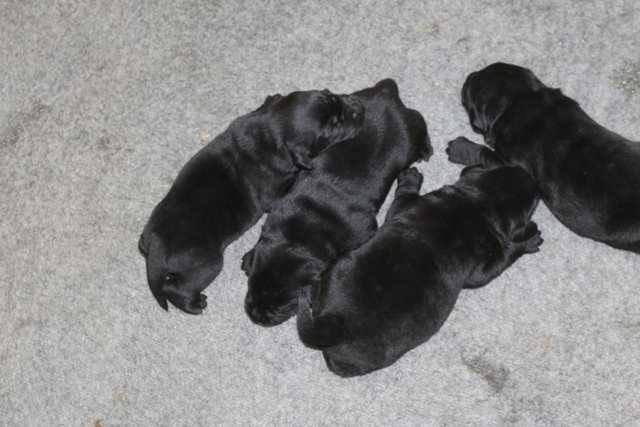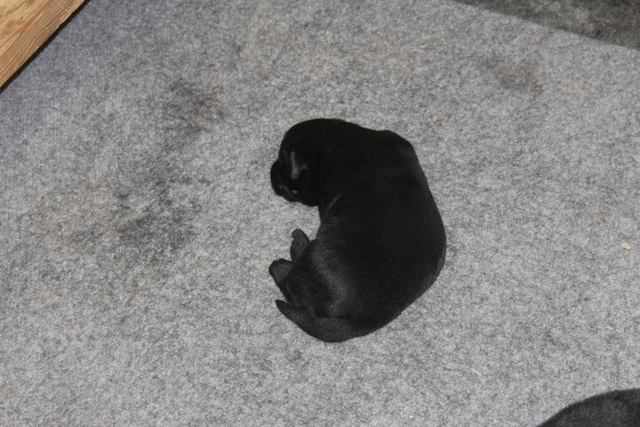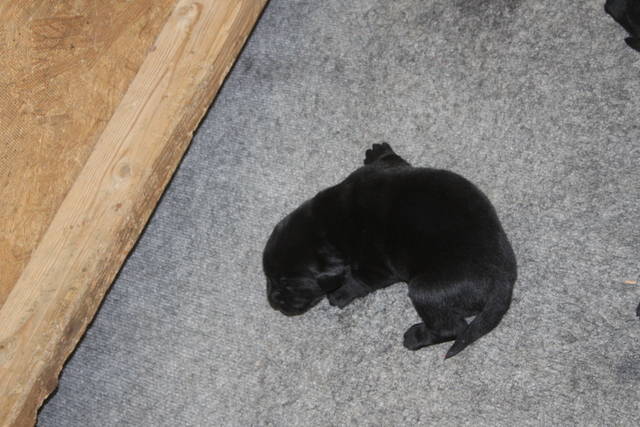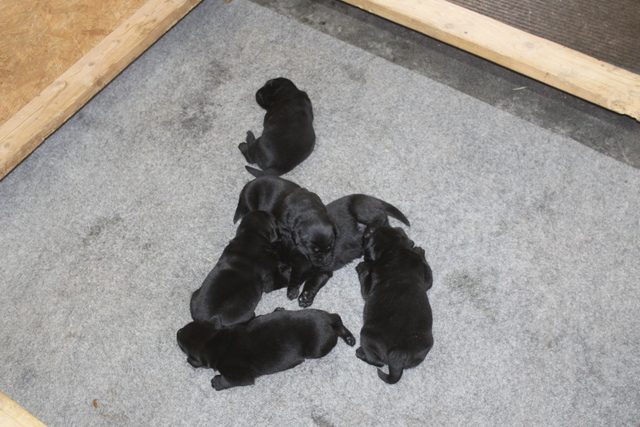 Goodbye


1 WEEK OLD PUPS
Sweet MaMa Char . . .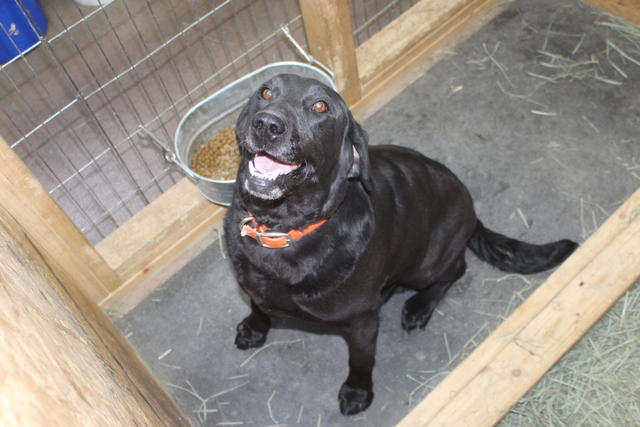 . . . and her pups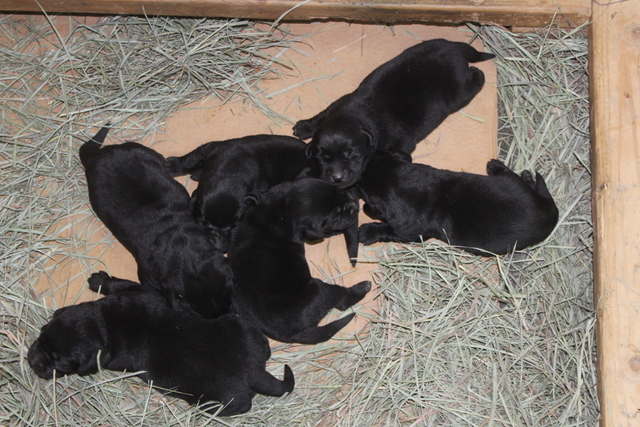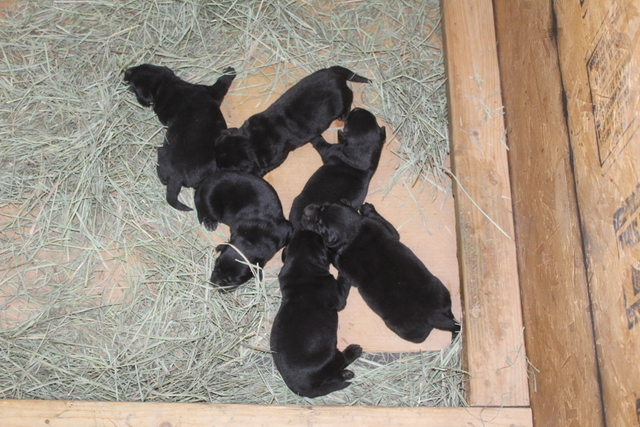 A beautiful Labrador Retriever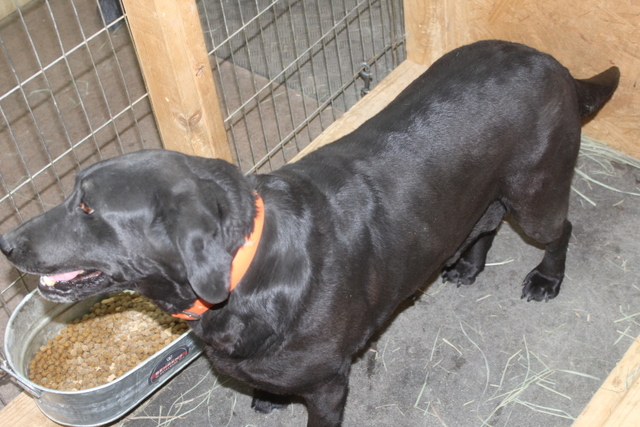 Well built, stout pups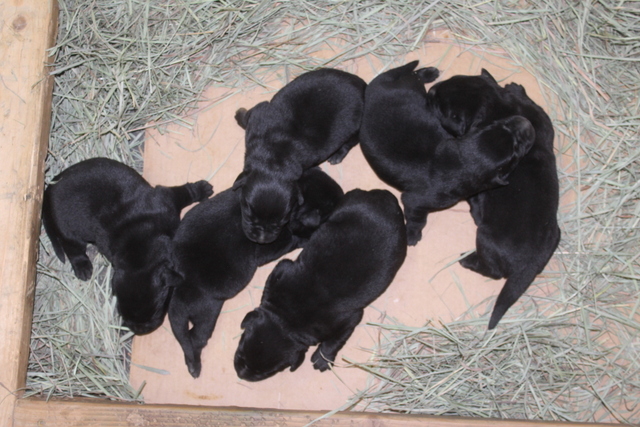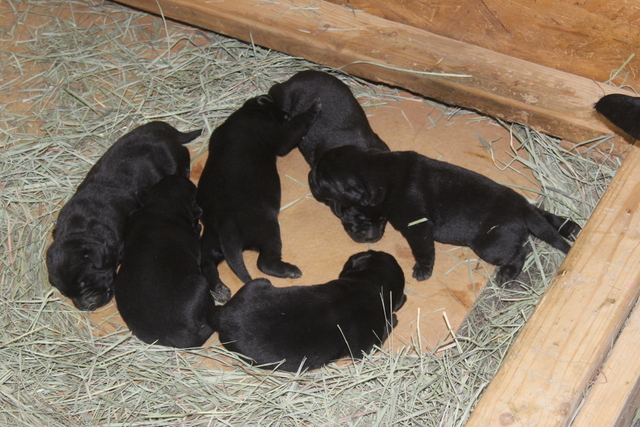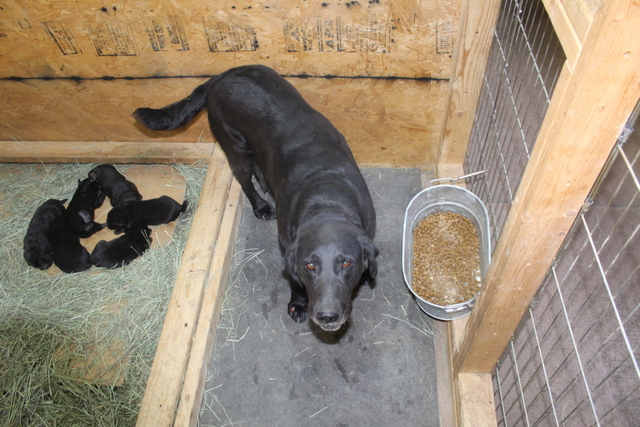 Char chowin' down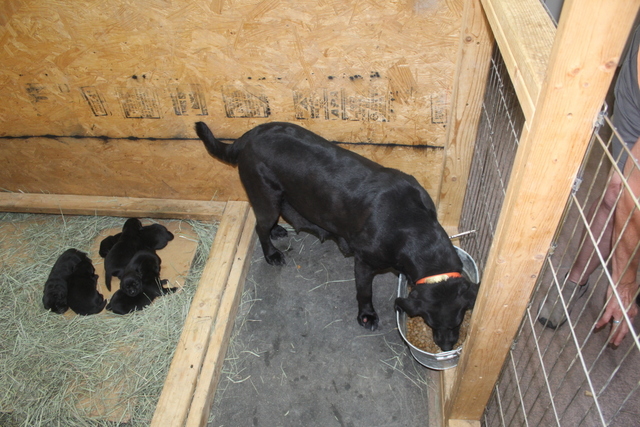 Pretty puppies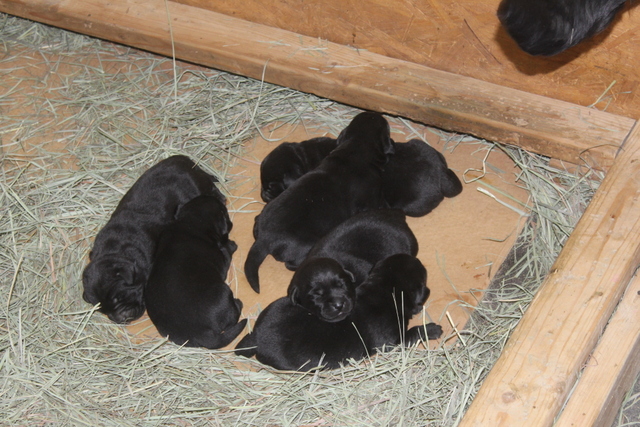 Goodbye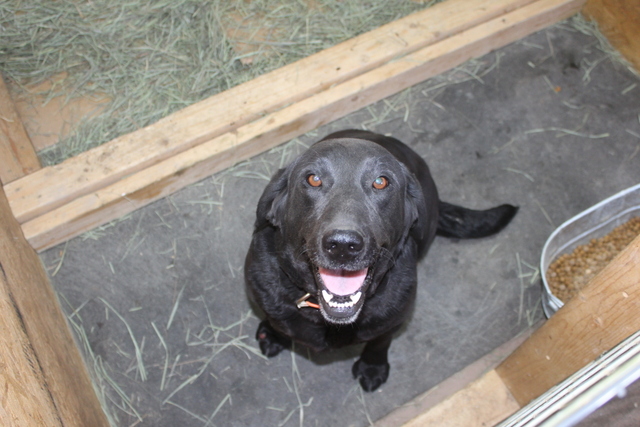 NEWBORN PUPS
MaMa Char and her new babies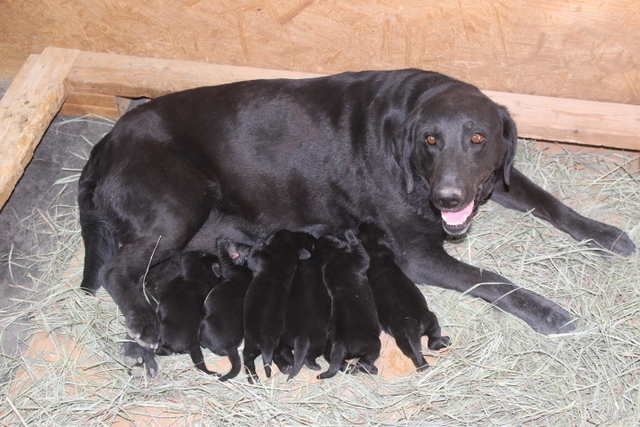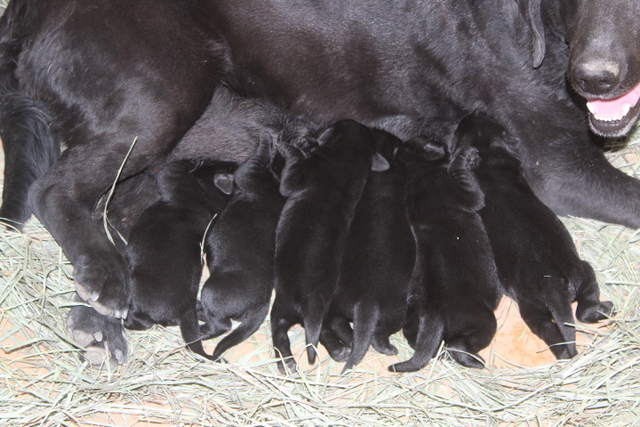 Pups in a basket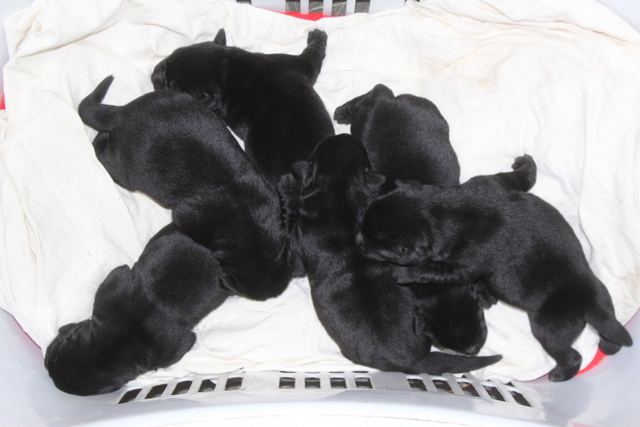 On the cardboard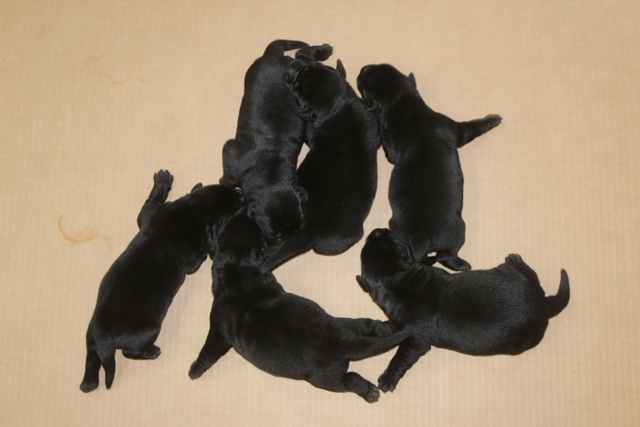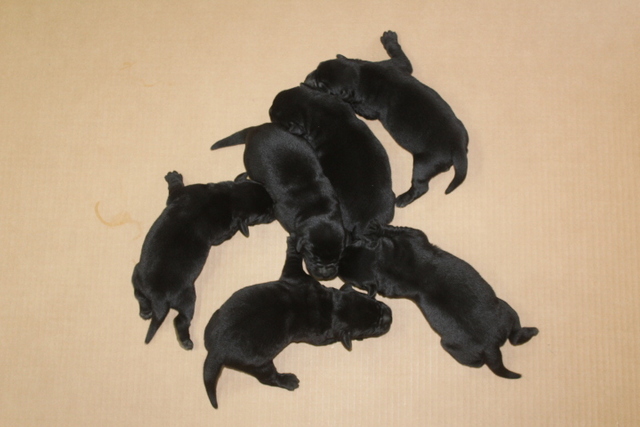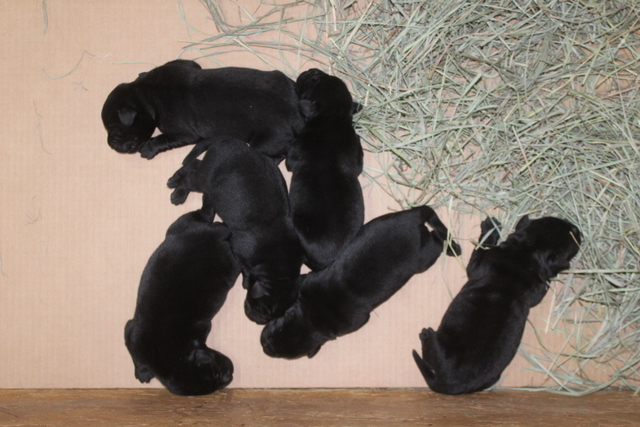 In the hay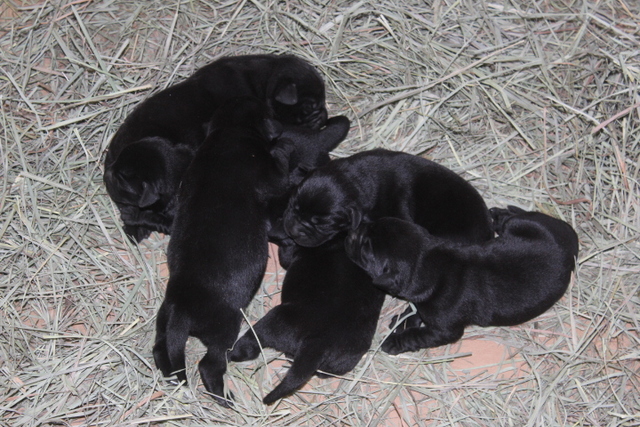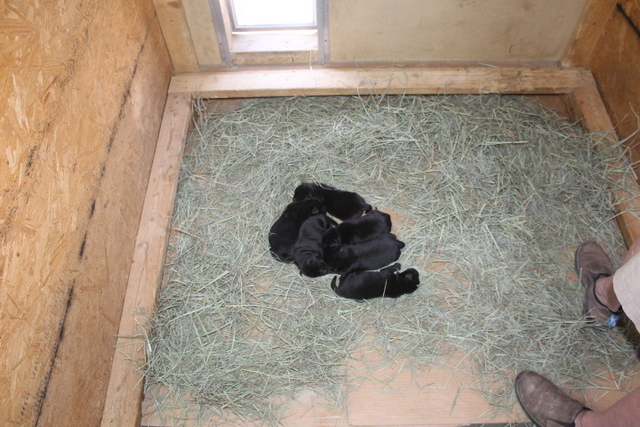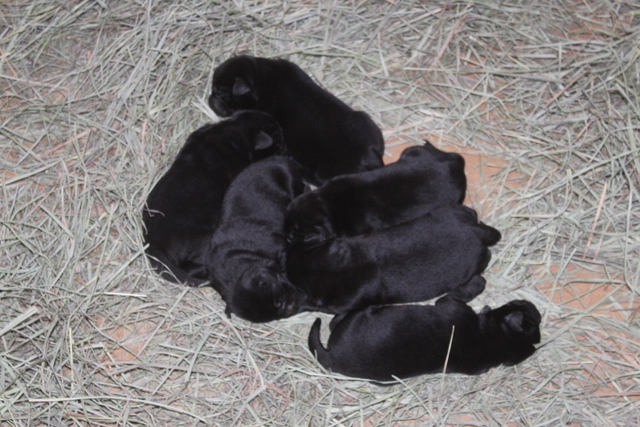 How about a treat?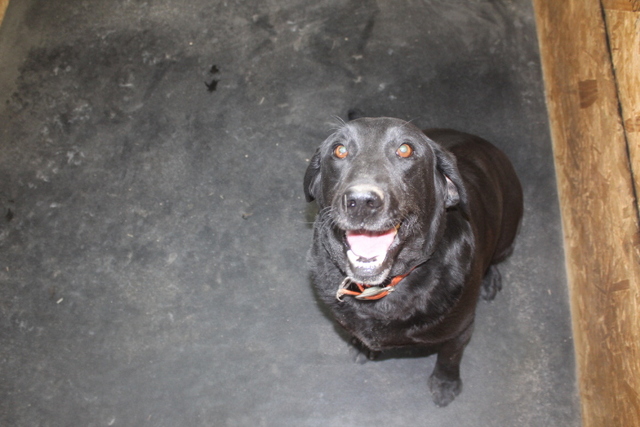 Tasty Treats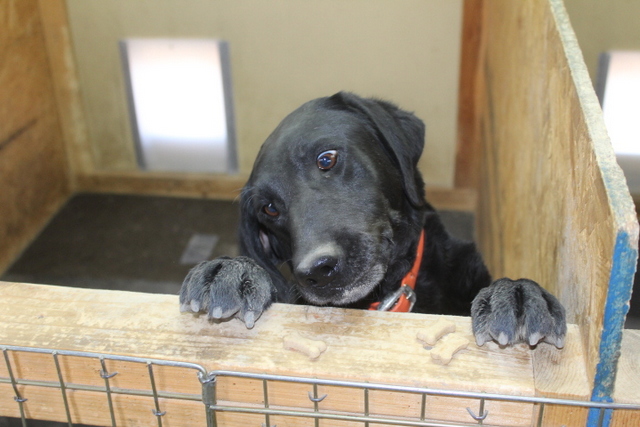 Goodbye


Sire: Diamond D's Rugged Ruger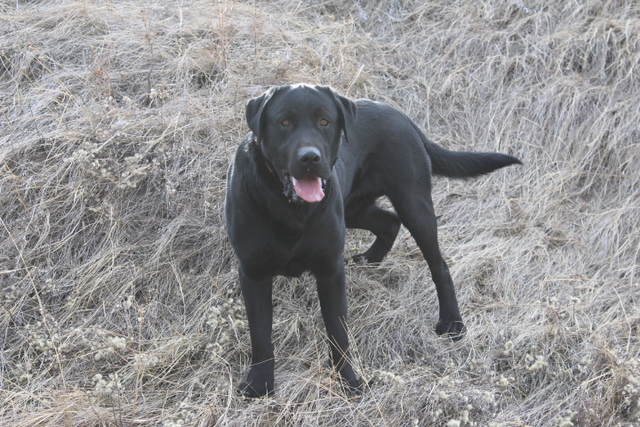 Ruger's a big, beautiful, well built, and extremely intelligent retriever
Call 406-965-0022 or E-mail us at labradorswest@hotmail.com to
purchase your Spring/Summer 2023 Lab puppy today!